Starting today Yahoo offers two new free apps in the Apple US AppStore. The Sketch-a-Search is an interesting map app that doesn't involve any typing at all. The standard Search app brings the regular Yahoo search engine to the iPhone and spices things up with features such as voice search, local shortcuts, etc.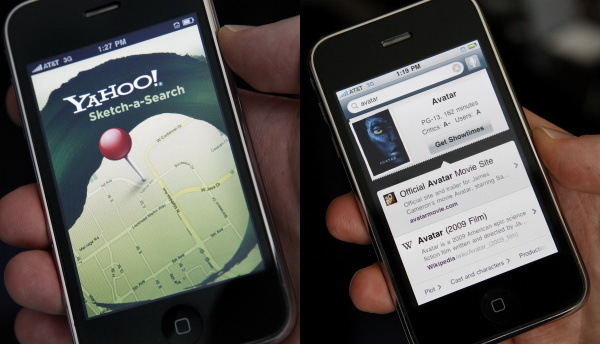 The Sketch-a-Search app allows you to draw a random boundary anywhere on the map and get all available POIs in that specific region. It's very easy to use and has many goodies, such as user reviews, rating and history options to remember your preferences. But you've got to remember that the app still uses the iPhone's Google Maps.
The Search app does exactly what it's supposed to – it gives accurate and fast results within a simple interface. The Yahoo Search has voice recognition and is capable of using your current location to filter the results.
Both apps have one very useful feature – Shake to Clear – just shake your iPhone to start a new search.
Yahoo Sketch-a-Search and Yahoo Search are available for free download in the AppStore. Ony the US AppStore for now, unfortunately.