In case you haven't heard of it, Minecraft has single-handedly become the biggest indie game of the century. Created by Swedish game developer Markus 'Notch' Persson in 2009, Minecraft is a completely randomly generated sandbox world that allows players to build out of practically anything they can find. Although the title is still in its beta, as of early February 2011, it had sold over 1,230,000 units and has only been available on PC and Mac, until now.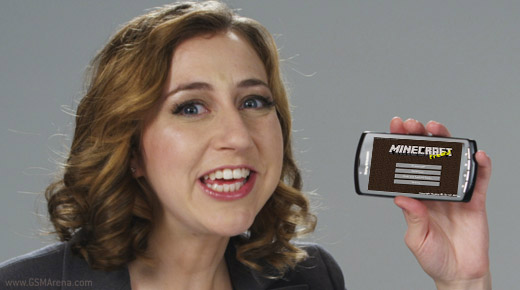 Assuming you're one of the lucky few who already own or intend on owning a Sony Ericsson Xperia PLAY, for the time being you will have exclusive access to a new mobile variant of this hit indie title. Developers Mojang were rumored to have been working on versions of the game for both iOS and Android and although there's no news of Apple's side of the fence, the PLAY is the first Android device that will be able to run the game (partly thanks to its unique gamepad).
Mojang spoke of the difficulties and differences of porting a game like Minecraft to mobile devices: "When playing on smartphones you will have a different screen size compared to PC, different hardware, different attention spans and thus the game needs to be customized to fit the mobile specifications," and this version will only officially work on the PLAY for the time being, (although is that really going to stop it popping up elsewhere?).
This is a testament to Sony Ericsson's push in getting the PLAY recognized as a real mobile gaming device. You might have caught their slightly surreal adverting campaign starring former Flight of the Conchords actress Kristin Schaal a month ago or so. The quirky Kristin brought her own brand of hilarity to the web spots (which you can see here), but what we saw in the final edits only eluded to what must have been hours of well executed hilarity. Well, BGR.com have unearthed at least a few of the outtakes from those fateful videos and we bring them to you here, check it out:
Although there's no confirmed price or release date set for Minecraft Mobile, Mojang have sent out invitations to a Minecraft-themed event on June 7, offering attendees the chance to "stay in the light and take refuge with Sony Ericsson to keep the creepers at bay." If you're a Minecraft player already you'll have some idea of what that means, if not, just go back and watch Kristin, she's so kooky, isn't she?.