The latest talk of the town has been revolving solely around top tier smartphones like the Xperia Z2 and while it has been flaunting its 4K video capabilities in everyone's face the Xperia M2 has been sitting on the sidelines waiting for a chance to shine.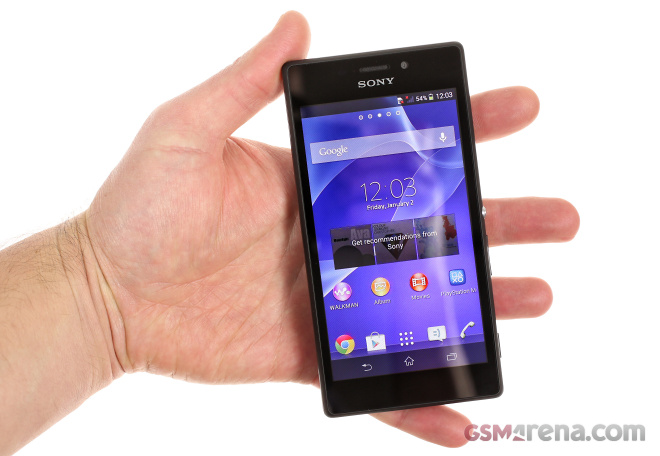 We think 15 minutes of fame wouldn't hurt it, so here comes our hands-on time with the Xperia M2 – Sony's latest midrange smartphone.
The Xperia M2 comes with either single or dual SIM support and has a 4.8-inch display of qHD (540 x 960 pixels) resolution mounted on the front. Performance is handled by a Snapdragon 400 chipset with quad-core 1.2 GHz Cortex-A7 CPU and 1 GB of RAM. There's a microSD card slot for expanding the built-in 8 GB of storage and an 8 MP camera capable of 1080p video capture.
The Sony Xperia M2 follows the Sony design philosophy with a front glass and back glass-like plastic covers and matte aluminum-like frame around the sides. Since this isn't the top tier device in Sony's portfolio the frame is actually made out of plastic and not metal, but feels nice to the touch.
On the back the camera is placed in the center and not in the upper left corner like we've seen on so many Sony's in recent times. The Xperia M2 uses the same power button on the right side that we love – it's big and responsive and always sits just where your thumb will land. The volume rocker and camera shutter button are also on the right side but are thinner and slender. They retain the nice clicky feel we've become accustomed to, though.
Software-wise the Xperia M2 comes with Android 4.3 Jelly Bean out of the box, which we find a tad disappointing. Android 4.3 performs well throughout but we would've preferred the cleaner Android 4.4.2. KitKat. Sony promises that's coming via an update shortly, though.
Here's a rundown what the Xperia M2 has in the box and how it handles.