Xiaomi's Mi 3 has had a long trek westward to our studios, but finally the device has made its way here and we're ready to give the popular Chinese smartphone our full review treatment.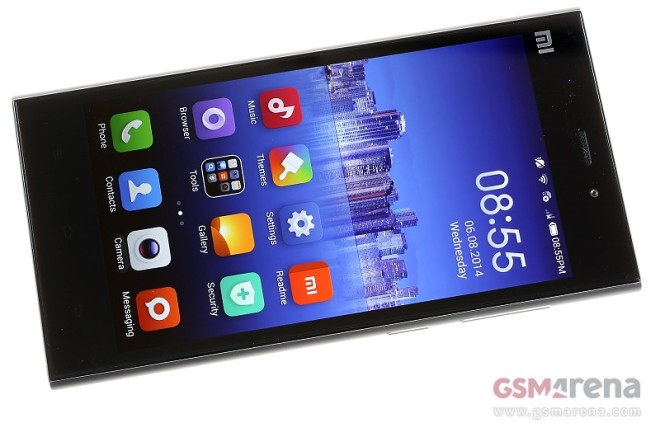 But before that, we'll be taking a quick look at the device in front of our camera. The Mi 3 comes in a stylish unibody that houses a robust quad-core 2.3GHz Snapdragon 800 chipset alongside Adreno 330 graphics and 2GB of RAM, all at a price that's significantly lower than most flagships.
Besides the capable processor, the Mi 3 sports a 5-inch 1080p display covered in Gorilla Glass 3. There's also a 13MP/2MP front/rear camera combo, and both shooters are capable of 1080p video recording. One knock that the device has is that the internal storage is non-expandable, as there is no microSD slot, which means that the 16GB model could end up being a drag to use.
The Mi 3 features a stylish polycarbonate chassis that wraps around the sides of the device. While this means that the 3050mAh battery is non user-accessible, the rounded edges mean the device is pleasurable to hold. Up top you'll find the mini-SIM slot, which is quite large when compared to the more compact slots found on other flagships. As the space it takes up is quite large, we would have liked to see Xiaomi make it into a micro-SIM and squeeze in a microSD card slot next to it.
From a software standpoint, the Mi 3 runs a modified version of Android that takes its cues from iOS thanks to Xiaomi's MIUI overlay. As it's a device that has its its home in China, you won't find any Google services like Maps or Gmail preloaded. Fortunately, as you have access to the Google Play store, you can easily get these apps installed. This puts the Mi 3 in a unique position to add and remove Google Services at will, unlike other international flagships that won't let you remove them.
Here's a quick video of the Mi 3 in action:
Be sure to check back with us for our full review on the Xiaomi Mi 3 next week.
Special thanks to XiaomiShop.com for providing us with this review unit.