Yesterday, Microsoft kicked off E3 2012 with some major announcements for the Xbox 360, which reportedly recently became the best selling console in the world, surpassing the Playstation 3. The first of the bunch is Internet Explorer for Xbox.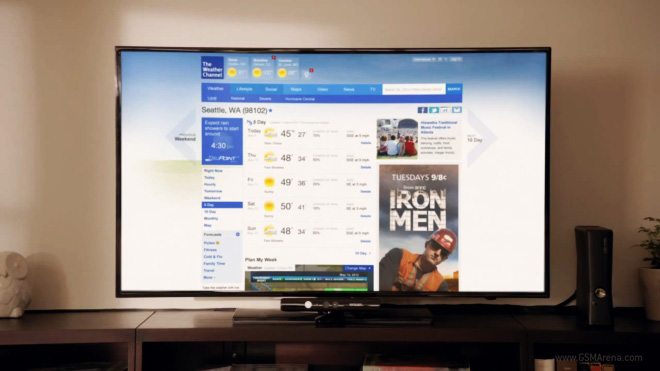 It's surprising that until this point there was no web browser on the Xbox, even though its rival PS3 had one since launch. Microsoft is now making up for it by bringing the Metro version of IE that we saw in Windows 8 on the Xbox. It will have full integration with Kinect so you would be able to use your voice to control it instead of using cumbersome keyboards in your living room.
Next up is something called SmartGlass, which works similar to Apple's AirPlay feature. Basically it allows you to stream content wirelessly from your mobile devices to your Xbox, which will then display them on the big screen. It then turns your mobile device into a remote control for your Xbox and also shows information regarding the content that is being streamed. SmartGlass also lets you use Internet Explorer on the Xbox from your phone by turning your phone into a keyboard and trackpad where you can scroll and pinch to zoom. SmartGlass will be available on iOS, Android and of course, Windows Phone devices.
Next is Xbox Music. This is mostly just a rebranding of the previous Zune Music service that lets you stream from over 30 million tracks from Microsoft, which you can not only access from the Xbox but from Microsoft's other devices such as Windows PCs, tablets and smartphones.
Microsoft has also partnered with Nike to bring you the Nike+ Kinect Training. It includes a game for the Xbox that reminds us a lot of the Wii Fit and comes with training programs that help you workout and get fit. It will also have a companion Windows Phone app that would keep track of your progress and give you reminders.
Next is Bing Voice, that lets you search using just your voice. You can search the web from the newly added Internet Explorer browser or you can search for content such as movies and music from Microsoft by using simple phrases such as the genre of the movie you want to play ("Bing action" or "Bing comedy") or the name of your playlist.
Lastly, we have a whole bunch of new content providers being added, 35 to be precise, which includes the likes of Machinima, Nickelodeon, Paramount Movies, Rhapsody, Slacker Radio, Comedy Central Stand UP, Paramount, Univision, etc. You will also be able to get live streams of NBA and NHL, as well as 24 hours live telecast of ESPN through the new Watch ESPN app.
All these features will start rolling out later this year, starting this fall.