After a few years of domination, the Nintendo Wii has finally yielded upon the Xbox 360. The Microsoft's console sold 8.2 million units throughout the holiday quarter – 2.6 million more than the Wii sales.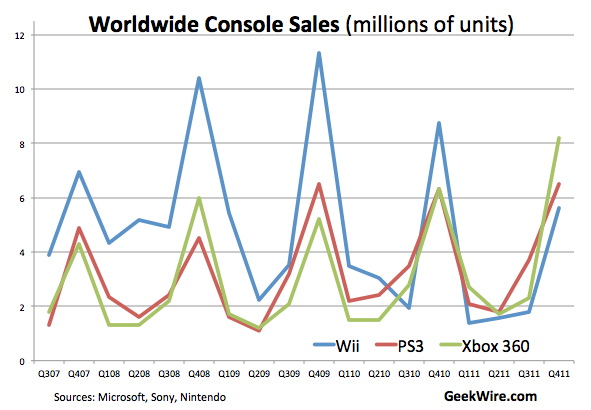 It is also the best-selling console for the whole 2011 with 14.9 million Xboxes sold. The PlayStation 3 comes second with 14.1 million and the Wii is last with 10.33 million units sold.
The PlayStation 3 has also done better at the end of 2011 – it sold 6.5 million units, the Uncharted 3 premiere last November should have helped a bit as well.
Just one more thing – the Nintendo Wii still holds the record for this generation consoles with 95 million units sold worldwide since its launch, while the Xbox 360 and PlayStation 3 are a lot behind – 66 million and 62 million units sold respectively.
It is quite understandable why the Xbox 360 has finally topped the sales – the Kinect controller proved immensely popular and the regular updates and the added new functionality surely helped as well.
Now that the Xbox 360 can do more awesome than the Wii can offer and has better hardware, it is only logical to become the new console king. Its glory might fall short though, since Nintendo has already announced the next generation Wii console and it should come out by the end of 2012.