Wreck-It Ralph is an arcade game based on a movie of the same name, which released last month. The game is made by Disney, who have so far given us a bunch of mobile games, the most popular among them being 'Where's My Water?' and 'Where's My Perry?'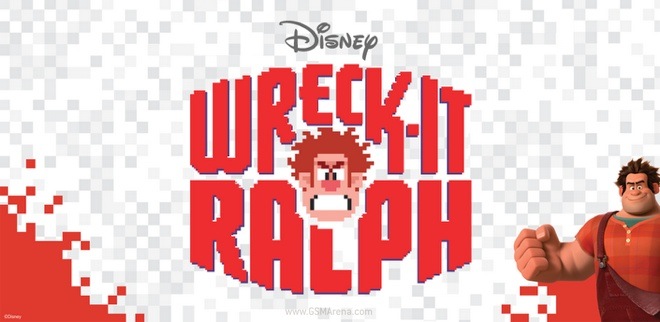 Wreck-It Ralph is actually not one game but a combination of three mini games. It features Fix-It Felix, Jr. on which the movie is based along with two new games. Let's see how they all fare.
Title

Wreck-it Ralph

Developer

Disney

Platform

iOS

Android

Release Date

November 1, 2012

Content rating


9+

Low Maturity

Size

37.3MB

39MB

Price

$0.99
Gameplay
One of the games in Wreck-It Ralph is Fix-It Felix, Jr. The movie on which Wreck-It Ralph the game is based on is Fix-It Felix. Jr. (yeah, it's a weird circle) but the game actually didn't exist so Disney went ahead and made the game as well. Fix-It Felix, Jr. is also available separately as a free game only on iOS.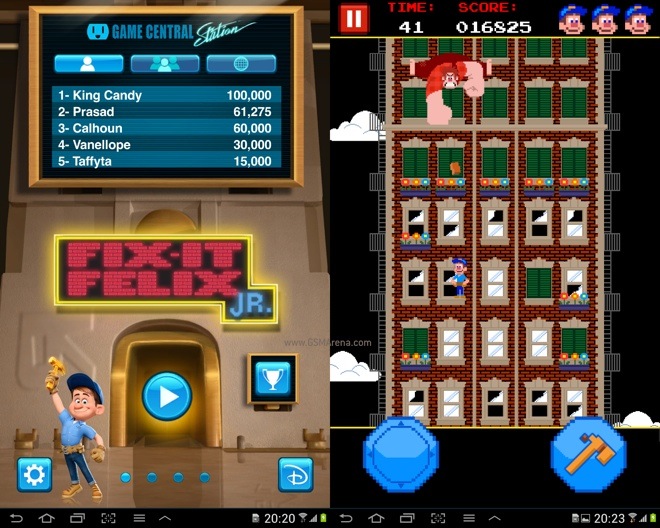 In Fix-It Felix, Jr., you are the titular character and your job is to go around and fix the windows broken by Ralph. You have a joystick on the left side of the screen that you can use to move up, down, left and right and a button on the right that you have to tap to fix a window.
As you move around, you have to avoid the bricks that Ralph throws down from the top, as well as any birds that might fly around.
You have multiple stages in the game and each stage has multiple levels. In each stage you get three lives and in each level you have a fixed amount of time to fix all the windows. If you run out of lives or levels then the game is over. Like old-school games, there are no checkpoints here, so if you die you have to start from the first level.
The game seems pretty easy at first but later on you realize that it becomes harder to avoid the bricks falling down from the top. You also get a lot more windows to fix and things such as flower beds and open windows make it difficult to move around quickly.
The second game is Sweet Climber, which is basically Doodle Jump. You bounce off tree branches and you have to collect candy while trying not to fall down.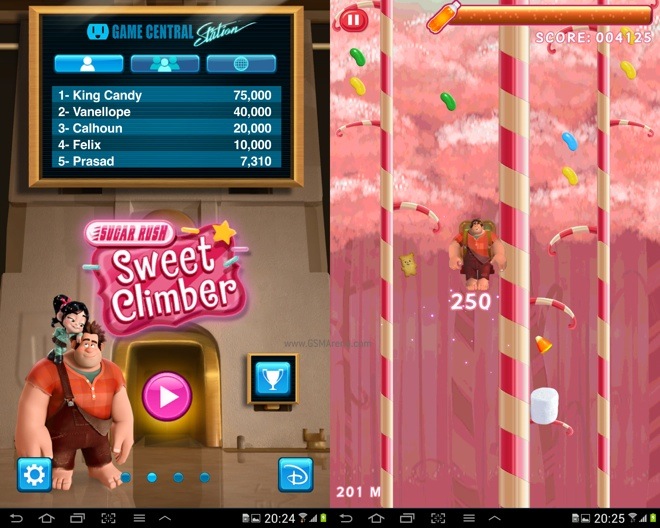 The third game is Hero's Duty, which is a top-down shooter and only game out of three played in landscape mode. In this game, your job is to shoot the cy-bugs with your gun and occasionally you get power ups which change your weapon temporarily to something cooler, such as a flame thrower. You get waves upon waves of cy-bugs attacking you and once you finish them all, you progress to the next level, where you face bigger cy-bugs.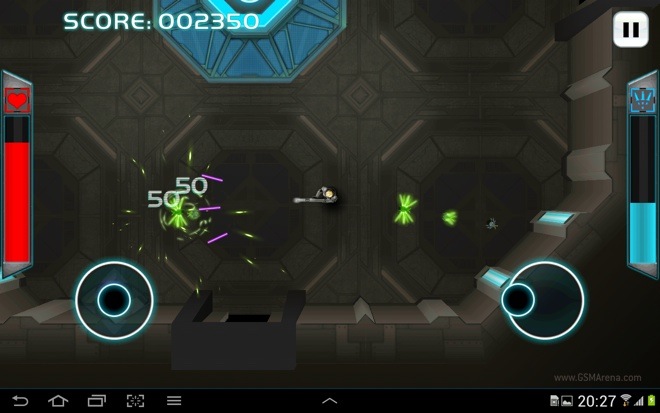 If I had to rate them, I would rate Hero's Duty the highest as it was easily the most exciting out of the three and the one I spent most time playing. Fix-It Felix, Jr. would come second and although reasonably fun isn't anything special. Sweet Climber is the least entertaining of all and I hardly played it at all.
Interestingly, there is also a fourth game in Wreck-It Ralph that is not yet available but should be out soon.
Wreck-It Ralph has a leaderboard where you can see where you rank against players around the world in every game. You can also log into Facebook and compare your scores against your friends'.
Graphics and Sound
In terms of visuals and sound, Fix-It Felix, Jr. has been designed to resemble classic arcade games and it succeeds in doing that. The type of gameplay, coupled with the graphics and sound brings back memories of old-school 2D games.
The other two games adopt a more contemporary look and borrow the visual style from the movie. Both look and sound fine and there is not much to complain here.
Verdict
For just $0.99, even one of these games would not have been a bad bet. But with three of them and a fourth one arriving shortly, Wreck-It Ralph is excellent value for money. The three games are quite different and I'm sure everyone will find something they like. For that money, you really can't go wrong.
Rating: 4/5
Pros: Hero's Duty is a lot of fun, Fix-It Felix, Jr. brings back memories of old-school arcade games, great value for the price
Cons: Sweet Climber is terribly unoriginal and not much fun