Recently, Microsoft announced it will cease support for Microsoft Windows XP, leaving the 13-year-old OS without future updates or optimizations after the April 8 deadline.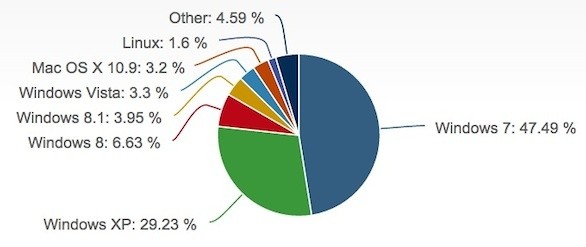 The latest data from Net Applications shows that adoption of Windows XP is actually rising in light of this news, with the percentage of Windows XP users going up to 29.23% in January.
XP, arguably the company's most successful operating system, has seen its share go up by 0.25 percentage points from where it was clocked at in December. To learn more about the planned end of support, check out Microsoft's page.
Microsofts oft-maligned new OS, Windows 8.1, has also seen an increase in its usage, surpassing Windows Vista to come in third at 3.95%. Combined with Windows 8 users, that makes for a 10.58 total market share.
This is markedly worse compared to the previous major OS version, Windows 7, which currently controls the lion's share at 47.49%. It took Windows 7 less than a year on the market to achieve 17% market share, while Windows 8/8.1 has barely managed 10% some 15 months into its availability.
Meanwhile, Mac and Linux combine to power just under 5% of all computers.