A couple of days ago Josh Phillips, Program Manager for Windows Phone Engineering posted about a bunch of enhancements coming to both Music and Videos in the upcoming Mango update on the Windows Phone Blog. The changes come on two levels, some proper additions and some background tweaks.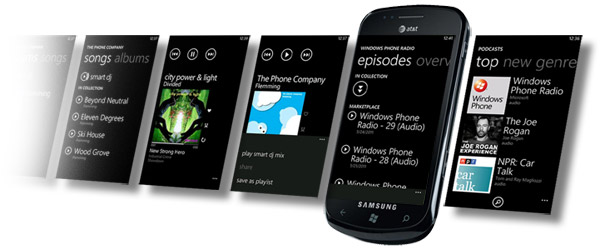 Firstly there's the addition of Smart DJ, using "seeds" i.e. an artist, album or song, it congregates music from your library and makes various mixes to suit genre or mood. If you have a Zune Pass music subscription, it can pick from the bounty of tracks on the Zune catalog as well.
There's now also podcast functionality, we know podcasts were available on WP7 but you needed to browse and sync with your PC using the Zune software to get them onto your phone. Now the Marketplace app has a dedicated podcast section where you can pull episodes or series onto your device, it's up to you.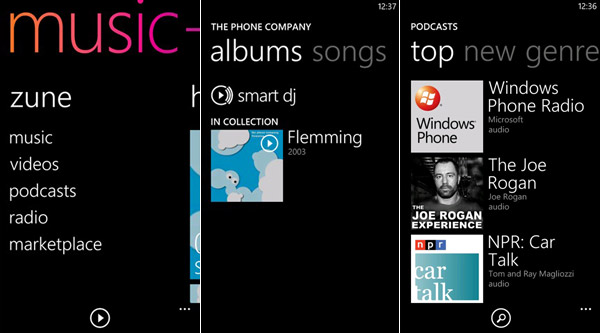 Screens showing the addition of Smart DJ and Podcasts in Marketplace
Alongside this new functionality there's now improved track history, improved mini playback controls, better artist images, greater playback functionality, more playlist options, more video options and better data management. This is all well and good but hang on a minute, Smart DJ – I'm sure I'm not the only one who immediately thought of Apple's Genius technology, and downloading podcasts to your phone, well… I am not by any stretch of the imagination an Apple fanboy but seriously, these are functions that should have been present in the beta build of the original WP7, the iPhone and iTunes have had this sort of functionality since the launch of the App Store and even then it was an underwhelming announcement.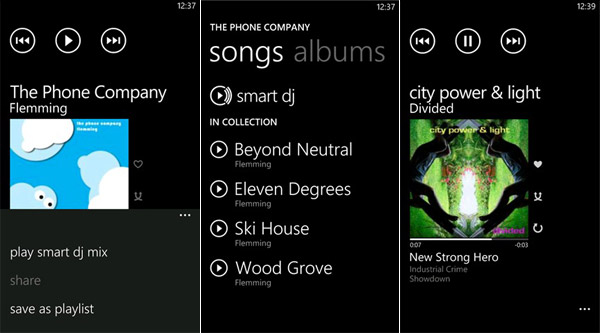 Notice the 'smart DJ mix' option • Smart DJ features on the main Music screen too • Improved cover art and track info
Windows Phone has been trying to differentiate itself as the new OS but by that notion that they are only now adding functionality that the competition has had for years. This is not to say that the additions are bad, Windows Phone has a fast growing fan/user base and its Mango update will make it a far more legitimate contender in the ongoing race for OS dominance. What do you think? Excited about the update or a little more inline with my opinion?
For a full rundown of what these new enhancements bring to Mango, hit up the source link to hear from Josh himself.