The Windows Phone 8.1 update is expected to come in a couple of months, bringing the widely requested notification center to the Microsoft platform. Yet, until now, we didn't have a very good idea of what it will look like.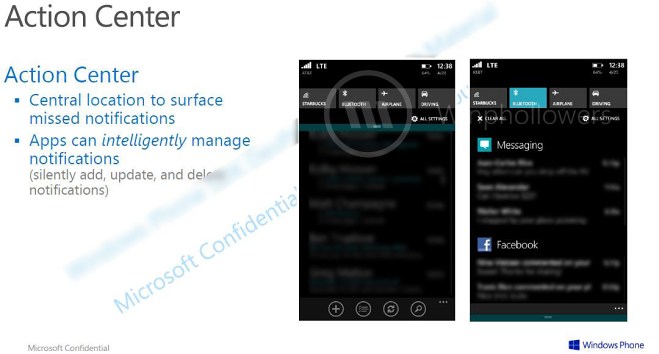 This changed today, though, thanks to a couple of leaked screenshots that allegedly come from an internal Microsoft document. It shows that the notification center will actually be called Action center and will contain connectivity toggles in addition to notifications.
According to the leaked slide, apps will be able to intelligently managed those notifications – i.e. they will be able to silently add to the list, update and even delete notifications before you have read them if they are no longer relevant. The screenshots also confirm the upcoming option to get the battery percentage displayed at the top of the screen, next to the battery icon.
The Windows Phone 8.1 update is expected to be officially announced at the Microsoft Build conference at the start of April. Naturally, we'll be bringing you all the details from the event as it unfolds, so don't forget to come back when the time comes.