Now that was a press conference that will be talked about for quiet some time. Along with the official launch of the Windows Phone 7 OS, Microsoft and their partners revealed almost a dozen new phones to run it.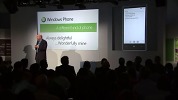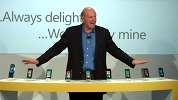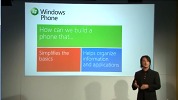 The WP7 launch event surprised us nicely with 11 new announcements
With the WP7 minimum requirements standing at the top of currently available technology there isn't much to choose between all those new offerings. They all have 1 GHz Snapdragon CPUs, large WVGA screens and generous amount of RAM and internal storage.
HTC were most active today revealing a total of five new handsets. Those include the HTC HD7 with its huge 4.3″ display and the HTC 7 Surround with its slide-out speaker. The HTC 7 Mozart puts the best camera on the table (8MP autofocus with xenon flash), while the HTC 7 Trophy should be the most attractively priced one.
The first QWERTY-packing HTC WP7 handset will be the HTC 7 Pro, which will come to Sprint early next year. There is no information of a GSM version so far.
Samsung had a couple of phones to announce too – the AT&T-bound Focus and the I8700 Omnia 7, which should get worldwide availability. Those rely on their 4″ SuperAMOLED screens to make an impact.



Samsung I8700 Omnia 7 • Samsung Focus
We were able to get our hands on a Samsung I8700 Omnia 7 unit in advance and we have prepared a full review for you. You should definitely check it to see how good the new OS is on an actual device.
LG were also at the party, showcasing three new handsets. The E900 Optimus 7 with its 3.8″ screen and the QWERTY-rocking twins C900 Optimus 7Q and C900 Quantum are what the company has to show for its WP7 effort so far. Strangely enough the LG GW910, which was showcased on a numerous occasions before, is not among the releases today.
Finally we come to the smartphone maker rookies from Dell and their Venue Pro. They were the only ones to announce a portrait QWERTY-slider and they even managed to slap a 4.1″ AMOLED screen over it.