Microsoft's Windows operating system, which is often criticized for its security issues, is no longer the number one as far as security vulnerabilities are concerned. According to latest data from the National Vulnerability Database (NVD), the OS is less vulnerable than Apple's OS X, iOS, as well as Linux.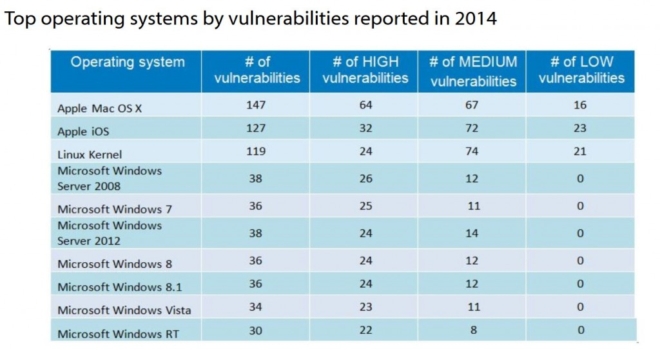 A quick look at the top operating systems by vulnerabilities reported in 2014 (see image above) reveals that Apple Mac OS X is the most vulnerable operating system, followed by Apple iOS (#2), and Linux (#3). Microsoft's Windows 8 and Windows 8.1 are at position 7 and 8, respectively.
Overall, a total of 7,038 new security vulnerabilities were added to the database last year, which translates into at an average of 19 new vulnerabilities per day. Out of those, 80% were reported in third-party applications, 13% in operating systems, and 4% in hardware devices.
If you aren't aware, NVD is the US government repository of standards based vulnerability management data represented using the Security Content Automation Protocol (SCAP).