Chromebooks are doing well in the $200 computing arena, but it looks like Microsoft is trying to nip that in the bud.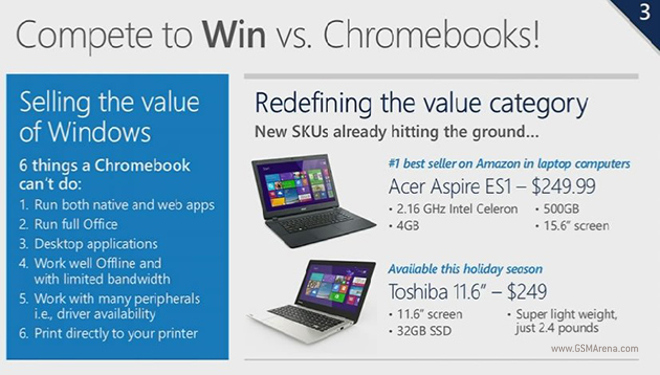 A new line of cheap, Windows machines are going to be hitting the market, including a $199 HP laptop, called the Stream.
Microsoft's COO, Kevin Turner, debuted HP's new low cost machine at the Redmond-based company's Worldwide Partner Conference today. It's slated to release this holiday season, which will make for a nice stocking stuffer; depending on the specs, which haven't been released yet.
Now cheap Windows computers aren't exactly new, but how Microsoft is marketing these new line of computers is: they're gunning straight for the Chrome OS by focusing on all of the benefits Windows OS boasts over Chrome. Greater freedom when working offline, a bigger selection of applications, desktop applications; these are all selling points Microsoft is hoping will sway potential Chromebook buyers to a Windows machine when it comes down to laying down hard-earned cash.
Microsoft also has some $99 Windows tablets planned that'll be rocking a full version of its OS. What has been your experience with $200 Windows machines compared to $200 Chromebooks? Which would you rather have?