The last thing Microsoft had to present to the world today has to do with augmented reality. Following a growing trend in the tech world, the company has announced its own entry into the VR headset space, which is called HoloLens. And it comes with some additional features compared to its competitors.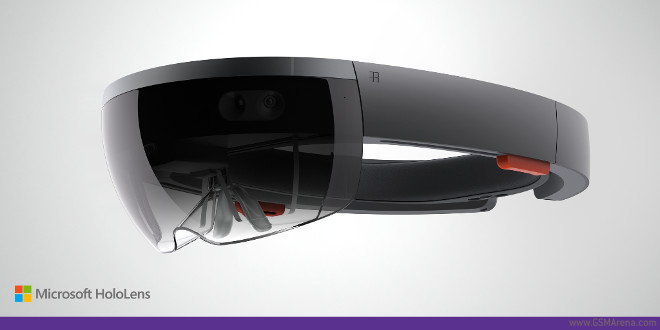 The HoloLens, which you can see above, has see-through holographic lenses that superimpose "holograms" onto the world that's actually around you, combining the physical with the digital.
It also touts spatial sound, so you can hear when holograms are behind you. It's actually its own computer, not needing to be tethered to a secondary device, be that a phone or a PC. It has a high-end CPU and GPU, and even something Microsoft dubs an HPU, which stands for "holographic processing unit".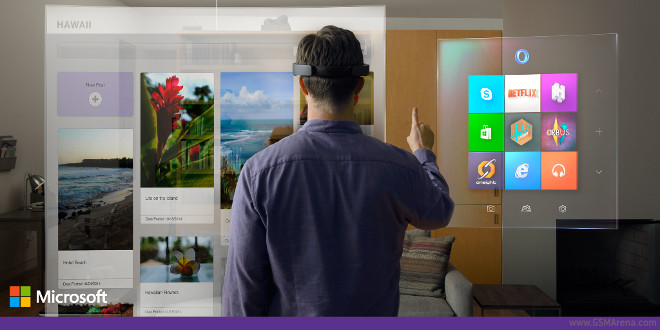 It's powered by the new Windows Holographic, and developers are said to already be working on apps for this platform. Holographic apps are Windows 10 universal apps, so it should be rather easy for developers to create them.
Microsoft showcased the power of Windows Holographic paired with the HoloLens on stage today, where someone used the HoloStudio app to build a virtual 3D quadrocopter, which employed some finger pointing, and the use of voice commands. Afterwards the finished project could be 3D printed if you happen to have a 3D printer around – Microsoft did, and so we saw the real world version of the digital 3D creation too. Apparently you can use HoloStudio as a sort of 'print preview' for 3D printing.
Clearly though, more apps should make the platform even more interesting in the future. Unfortunately an exact release date for Windows Holographic and the HoloLens hasn't been given, with Microsoft execs simply saying the headset should be on sale "in the Windows 10 timeframe", whatever that may mean.