WhatsApp has released a new update (v2.11.169) for Android that brings with it some new privacy options. You can now choose who can see your 'Last seen', profile photo and status message. You can let everyone see it, only your contacts see it or set it so no one can see it.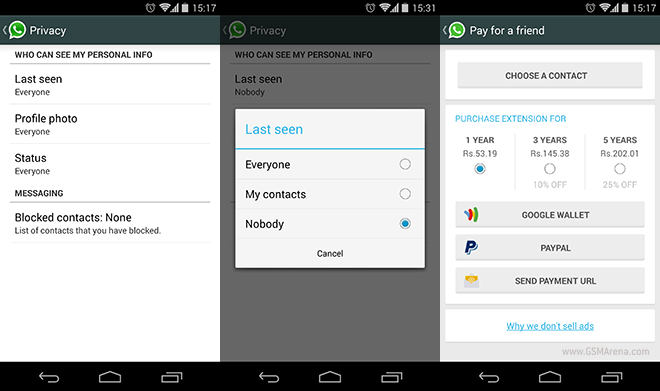 The iOS version of WhatsApp has had the ability to hide the Last seen status since forever but it's only now that the Android version received it. But along with it, it also got the ability to hide the profile photo and status message, that iOS version does not yet have.
There are several other changes, as well. The mute functionality has been improved and now finally works as it should. Previously, even if you muted a group, you would still see the notifications. Now, muting the group makes it completely silent and only when you open the app would you know you have new messages from a group. Unfortunately, there is still no permanent mute option and the maximum duration you can choose is still one week.
You can now also pay for a friend. You can choose from 1, 3 or 5 year subscription option and gift it to a friend using Google Wallet, PayPal or sending payment link. Lastly, the notification options for broadcast messages have been removed but you can still send broadcast messages.
The new WhatsApp update for Android is not yet available on the Play Store but you can download the APK from the link below.