The Apple Watch is officially here! Well technically. In keeping with its promise for an April 24 release date, the high-tech gadget is no longer in a preorder stage, but actually picking up one might still be a problem.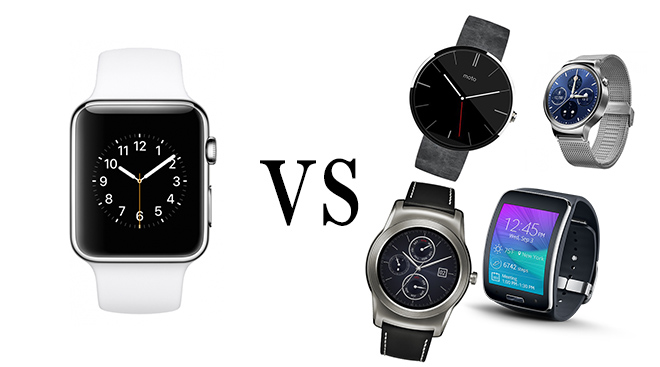 Yet apart from the glaring availability issues Cupertino is facing, the Apple Watch is a reality and we can't wait to see how it fares in the growing smart wearable market. In this line of thought, we thought it would be only fair to pit it against its most-likely contenders in this week's poll and ask you, our loyal readers, which device you fancy the most.
Straight off the bat, we have to get a few, somewhat obvious things clear about the Apple Watch. First and foremost, it is an Apple product and as such quite unlike anything else on the market in terms of software. Apple is using its own proprietary OS, which is only compatible with iOS devices. This might change in the future, but we really don't see Apple implementing official support for Android any time soon. But that might come courtesy of skillful hackers and developers.
Second, bear in mind that the Apple Watch is the company's first attempt at a start wearable, whereas most of the competition has already gone through a few iterations of their products. This tardiness to the show, however, is in no way an excuse, but we are just reminding you that if you opt for a shiny new Apple Watch, you might be getting into a first-gen product experience.
So, without further ado, here are the contenders:
First up, we have The Huawei Watch. It was officially announced this March at MWC 2015 in Barcelona, but is still not available for purchase. It offers a slick, round design aimed at a more classic look and feel. It runs on Android wear, as do most other competitors on the list and is also the first Android Wear watch with a sapphire crystal screen. It even beat the Apple Watch to the punch, which also comes with a crystal finish in some of its higher-end models. The screen is a 1.4-inch AMOLED with a resolution of 400 x 400 pixels and a formidable 286 ppi.
Next, we have the LG Watch Urbane. It was also announced around the same time as Huawei's wearable and is also still unavailable. Just recently, however, we did receive word that the LTE version is already up for sale in South Korea with a price tag of $365, but that is a different device altogether and exclusive for the said market. The LG Watch Urbane also runs on Android Wear and has the innards of a low-end smartphone with a Qualcomm Snapdragon 400 SoC and 512MB of RAM. It also has an IP67 rating for water and dust resistance. The screen is a 1.3" P-OLED display with a resolution of 320 x 320 pixels.
Next is Samsung's current smartwatch offer – the Gear S. It resembles a smartphone even more than the competition, which is perhaps its biggest strength and weakness. It also features a Qualcomm Snapdragon 400 chipset with 512MB RAM and the same IP67 certification. It also has an array of additional sensors and even A-GPS with GLONASS. It runs on Tizen and is so feature-packed that it even has an Opera Mini browser. The screen is a 2-inch curved Super AMOLED multi-touch screen with a resolution of 360 x 480 pixels (300 ppi pixel density). It can currently be picked up for about $300.
Last, but not least, there is the Moto 360. It is essentially a first-gen device and as such, should be replaced pretty soon. It was one of the devices that started the whole smartwatch trend and also one of the first to run Android Wear. However, it still boasts some good specs with a TI OMAP 3 chipset and 512MB RAM. The screen is not ideally round, but is still pretty impressive measuring in at 1.56″ with a resolution of 320 x 290 pixels, 205ppi and Corning Gorilla Glass 3 protection. Unlike most of the aforementioned watches, the Moto 360 goes easy on your budget and is currently priced at around $220.
So which one will it be? You decide which watch gets to take home the gold as the most user-favored smart wearable.