We're taking a little detour from our regular routine with poll making and will be pitting two slates against each other instead of smartphones. Well, maybe not such a big detour after all.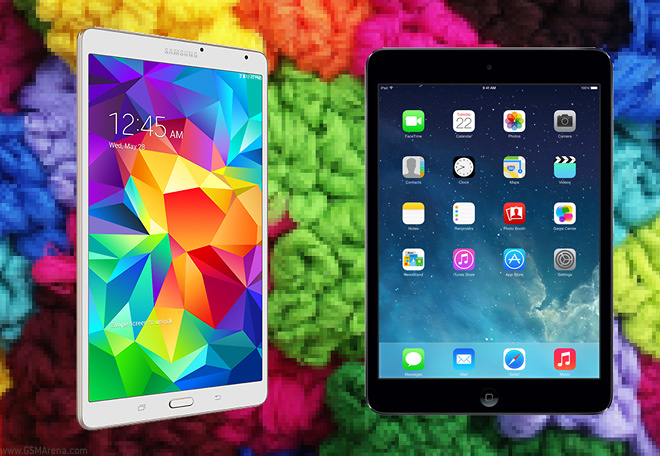 In this weekly poll installment we're putting the two best-equipped portable slates around – the newly-arrived Samsung Galaxy Tab S 8.4 against the market-leading Apple iPad mini 2.
When announcing the Galaxy Tab S series Samsung was eager to place them side to side with Retina Apple's iPads because seeing is believing. Samsung has pushed the resolution to new heights with an insane 1600 x 2560, beating the iPad mini 2′s 1536 x 2048 by a lot – the pixel density is 359 ppi against 324 ppi in favor of the Samsung slate.
Another thing that Samsung eagerly pointed a finger at is the screen tech – LCD vs Super AMOLED, the latter having unmatched contrast, deep saturated colors and unbeatable level of blacks. But Apple's iPad mini 2 still offers one of the best screens around.
Design
Now since this is our weekly poll we've divided the battle in five categories. We're starting with the design choice. Which do you like best – the super-thin, dotted, elegant Samsung Galaxy Tab S or the metal-clad, curved and matte Apple iPad? Vote away.
Display
Probably the biggest fight of the lot falls on the displays. These two aren't just good – they are the best you can find on the market for a portable tablet. So which is it – Samsung's super-punchy Super AMOLED or Apple's true Retina LCD?
User interface
Apple has always been regarded as the company with the most attention thrown into the details. iOS 7 flies on the iPad mini 2′s 64-bit A7 chip and the app ecosystem is second to none in terms of looks and tablet-friendliness. The Galaxy Tab S 8.4 is dragging along the not so hot for tablets Android ecosystem but Samsung has done a lot of work to make the software usable on the bigger screen. It's the first manufacturer to offer a split screen view where several apps can run simultaneously on the screen.
It's Multi window vs Garage Band and more – and the vote goes to?
Camera
Tablets aren't usually considered the best devices for imaging but that hasn't stopped Apple and Samsung to input capable snappers on both. The Galaxy Tab S 8.4 has the edge on megapixels – 8 MP vs 5 MP.
Video recording
It's a pity that Samsung isn't offering its superb 2160p video recording on the Galaxy Tab S 8.4 but it still has a good 1080p output. But so does the Apple iPad mini 2. Looking at the samples, which do you think is best?
By now we know that most people vote by heart and not as much by logic. But this time the two contenders are as evenly matched on specs as you can get – both offering great displays, both running smooth and beautiful interfaces, both good for this or that. The Samsung Galaxy Tab S 8.4 is the clear winner on productivity with Multi window alone. But the iPad mini 2 is regarded as a great app consumer device for a reason.
That's it for this week – cast your votes in and next week we're going to show you the results.