The most hotly-anticipated flagship of recent months, the Samsung Galaxy S6 is already here, and we subjected it to our customary test routine. We don't doubt you're already familiar with our findings, but on that slim chance you've been gone from our site for the past week, you can check out the detailed review here.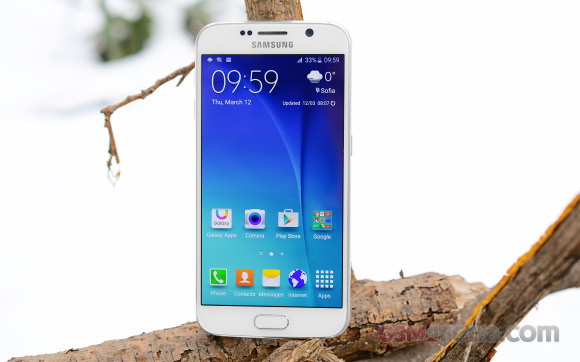 Our discoveries are one thing though, and you're likely to have your own personal take on the matters at hand. Thus,we're offering you a chance to share your thoughts on a few key aspects of Samsung's latest and greatest. Join us after the break, for the complete list of hot topics.
Samsung Galaxy S6 Design
Conceived as "Project Zero", the Galaxy S6 carries the massive responsibility of introducing that all-important upmarket feel, sorely lacking in the company's flagships for the last few generations. The slim all-glass panels, surrounded by a finely machined aluminum frame, are exactly what it takes to establish silence in the haters camp on that subject. However, premium materials have meant the sacrifice of core Samsung features, and that may end up alienating otherwise loyal brand supporters. What do you reckon?
Samsung Galaxy S6 Screen
Samsung has been perfecting the AMOLED technology for years, and it shows in the latest Galaxy iteration. Contrast is inherently superb, but brightness has been gradually brought to excellent levels as well, and settings give you the choice of punchy AMOLED colors or realistic color rendition. And lets not forget the 2,560 x 1,440 pixel resolution, resulting in the insane 577ppi density. So how do you stand on that particular subject?

Samsung Galaxy S6 Performance
You've heard it a thousand times, the Snapdragon 810 showed questionable heat dissipation capabilities and that forced Samsung to go in-house and utilize the Exynos 7420 chipset. Or the Korean company had its own powerhouse in mind from the get go. Either way, the Exynos delivers, and is consistently a benchmark chart-topper.

Samsung Galaxy S6 Camera
Much was written about the Galaxy S6′s camera before the smartphone went official. Was it going to be a Samsung sensor, or a Sony one. And then a 20MP unit or maybe 16MP? In the end the company stuck with the IMX240 imager found in the Galaxy Note 4, only put it behind a faster f1.9 lens. You can check out in our dedicated camera shootout how that worked out, and return here to cast your vote.

Samsung Galaxy S6 Interface
TouchWiz has been the other major source of user complaints on grounds of being much too heavy on features, some of which oftentimes remained unused by users for the entire life of their smartphones. Samsung claims to have addressed that and, indeed, the latest iteration appears somewhat lighter.

You have the entire week to vote, and we'll be back with you next weekend with the numbers.