Our weekly poll results are out and the Samsung Galaxy S6 is proving to be nearly everyone's favorite. Quite expectedly, a few areas turned out more universally likable, while others ended up polarizing opinion.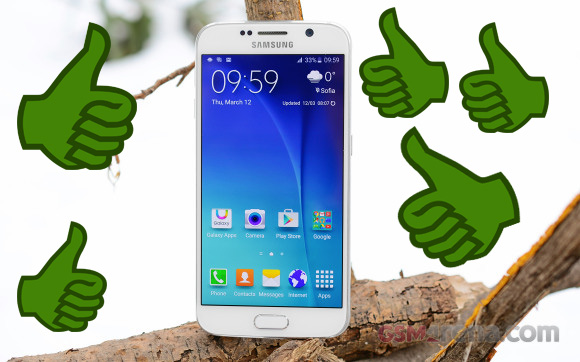 Samsung has been perfecting its AMOLED display technology and, judging by the 85% upvotes on the matter, the company may have already gotten to a point where even convinced fans of the competition are starting to admit Samsung's displays are among the best out there.
The smartphone's performance is also an obvious crowd pleaser, gathering the equally impressive 82% positive votes. Samsung's state-of-the-art Exynos 7420 chipset is easily the best one out there at the moment, and storage performance proved top notch as well, which you likely acknowledged when casting your votes.
The camera department fared similarly well with a four-to-one final score in favor. Yes, it is the same sensor as the Galaxy Note 4, but the faster lens delivers superior output with available light and is a considerable step up from the Galaxy S5.
Design proved a bit more questionable, and those 29% negative votes surely have a lot more to do with the omission of expandable storage and removable battery, than with looks and materials.
The only aspect where the vote is split in half is user interface. Apparently Samsung's work on simplification isn't enough to most and it will take a while before the company's custom Android overlay manages to shake off the accumulated criticism.