The epic battle between the Samsung Galaxy S5 and Sony Xperia Z2 took over our home page and now it carries on to our blog.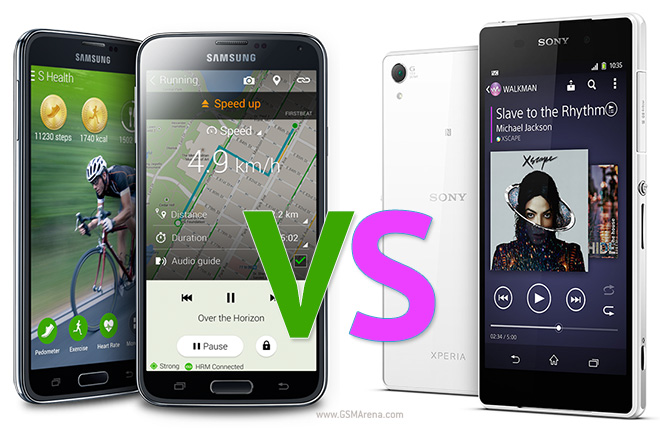 We've analyzed both smartphones every way we could think of, but we now want to hear what you, our readers, think of our two contenders. As usual we have a few categories and we want to see your votes cast on which one has the best design, screen, software and camera.
Design-wise the two are very different. The Samsung Galaxy S5 relies on quality plastic with a leather-imitating texture on the back. The front features a physical home button that also hosts a fingerprint scanner and the screen meets the phone's frame at the edges. The Sony Xperia Z2 opts for flat glass on its front and back and doesn't have biometric sensors that require extra hole on its exterior.
Both smartphones come with water resistance, mind you, but the Sony Xperia Z2 also manages to squeeze stereo speakers at the front.
Next up is the screen. We're looking at two FullHD panels but of very different technology. The Samsung Galaxy S5 has a 5.1″ Super AMOLED that manages to beat the Xperia Z2′s 5.2″ IPS LCD panel in terms of brightness, contrast and sunlight legibility, but the LCD color reproduction still has its fair share of supporters.
While on the cutting edge of mobile software with Android 4.4.2 KitKat the two rivals have different approaches to UI design. Samsung's latest TouchWiz went for flat deeply customized Android while Sony's latest Xperia UI has opted for plainer looks that sit closer to stock Android.
One of the most important factors in buying a flagship phone is the camera performance. Both smartphones here boast great snappers with large high-res sensor sensors. The Samsung Galaxy S5 goes for a 16 MP 16:9 1/2.6″ ISOCELL sensor, while the Sony gives you a 1/2.5″ imager of 20 MP resolution with the more conventional 4:3 ratio.
And finally the video recording. Seen as leaders on the market with their UHD video recording each of these smartphones has a legitimate claim to the title.

Do your thing now – you've got a whole week to cast your votes.