Our latest poll will take a look at one the years earlier flagships verses one of the more recent ones. The Sony Xperia Z2 made waves at MWC back in February, while the LG G3 is the new kid in town, coming to market just last month.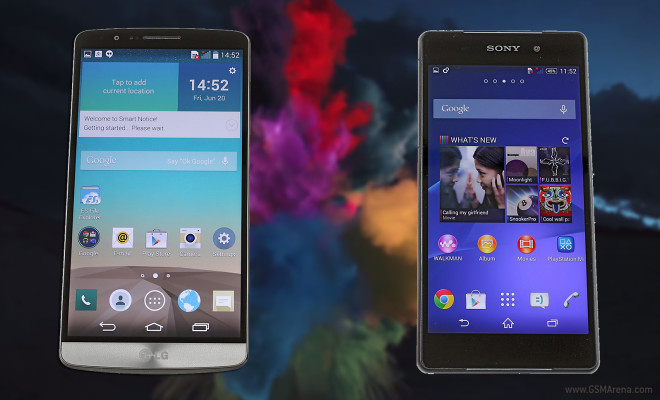 Fresh off our shootout review of the two Asian-born smartphones, we want to hear what you think. Is the QHD screen of the LG G3 enough to give it the edge, or will the Z2′s slick design save the day?
As usual, we're looking at five categories. The first of them is the design – the dual-glass panel design on the Xperia Z2 has given it many a vs. victory, but LG has managed to squeeze a 5.5-inch display of higher resolution into a smaller footprint than the Sony device. Which do you think is better?
Next up is the screen. The LG G3 claims to be the best with its QHD screen of unheard of 534 ppi sharpness. It's 5.5-inch diagonal is also larger than that of the 5.2-inch Z2, but our testing revealed it has poorer contrast and brightness.
Sony's take on Android 4.4 KitKat again sees the heavy presence of the company's robust multimedia apps, while LG's extensive feature-set includes useful extras like QSlide floating windows and Dual window multitasking mode.
We found that the resolved detail of the 20.7MP Sony Xperia Z2 is slightly better than that of the 13MP sensor on the LG G3, but the LG smartphone still had better daylight shots. What do you think is better?
Both devices are capable at video recording at up to 2160p, so it really comes down to who does it better. Does the LG G3 prove to do enough in this test, or is the Xperia Z2 the more capable camcorder?
As is often the case, we're looking at two devices that are constantly in the conversation for best smartphone. Be sure to check back with us next weekend to find out who comes out on top according to your own vote.