After our last weekend poll and hot off the heels of our extensive comparison review, we're ready to hear what you have to say about the latest pair of Android flagships out of Korea: the LG G3 vs. the Samsung Galaxy S5.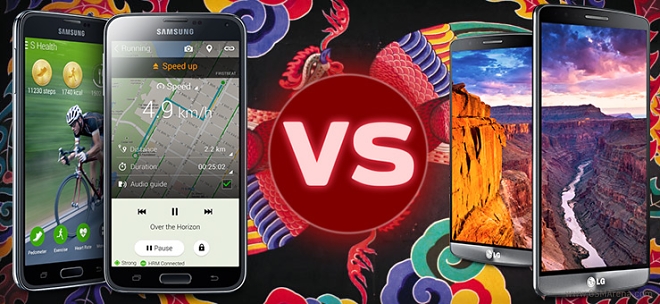 Make your voice heard and cast your vote on which is better in five distinct categories: design, screen, user interface, still photo and video image quality. Vote now!
Design
We get started with design. Traditionally, both manufacturers have relied primarily on polycarbonate in constructing their flagships, and this latest generation is no exception. The Galaxy S5 has had a makeover since the days of slick-backed Galaxy's, while the LG G3′s own take involves a stylish faux-aluminum finish and curved back panel.
Which flagship do you think is the better looker?
Screen
As the first major flagship to have a QHD display, the LG G3 obviously has an advantage in the resolution department. On the flipside, our own tests have shown that the Galaxy S5 has vastly superior contrast and sunlight legibility, and the AMOLED screen has punchier colors and is generally brighter.
User interface
Samsung's latest TouchWiz iteration is enhanced by the inclusion of some nifty extras like the fingerprint scanner and heart-rate sensors – both firsts for an Android device. LG's own Optimus UI has perfected the use of the company's new Knock Code feature, which lets you wake the smartphone and even automatically launch applications with a series of taps on the screen. Ultimately, the two interfaces have always been very similar, with the two companies "borrowing" many features from one another.
Still photo quality
By itself, the LG G3 camera offers accurate colors and exposure, but the Galaxy S5 is able to top it ever so slightly when it comes to resolved detail, white balance, and contrast. The G3 does have better low-light performance, however.
Video image quality
Both cameras are able to shoot at UHD resolution, with the same overall tendencies we observed in the still images. The below crop is taken directly from our shoot-out – which do you think is better?
Check back in a week's time for the results. Don't forget to tell us what you think in the comments section!