The international version of the Nokia Lumia 710 dropped by our office following the US-bound one and we're ready to share our first impressions of it. The first thing we noticed was the extra large box – bigger than the boxes most other phones come in – but the contents are pretty standard.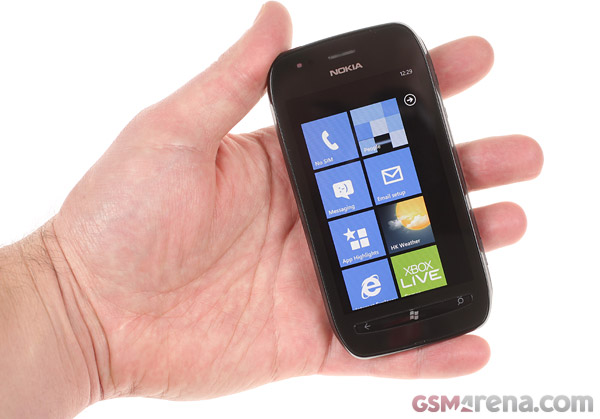 As for the phone itself, it was a pleasant surprise. The Lumia 710 sits slightly lower on the ladder than the Lumia 800, but it has the same hardware inside along with a screen with the same size and resolution.
It is an LCD rather than an AMOLED, but that means a full set of subpixels (the Lumia 800 uses a PenTile matrix) and uses Nokia's ClearBlack technology which typically offers good image quality (we saw this combo on the Nokia 701).
The blacks are fairly deep for an LCD, though not the best we've seen. There's Gorilla glass on top to guard the screen from scratches.
The Lumia 710 has hardware keys on the front (we can hear people who don't like capacitive keys rejoicing). The phone's shell is not a unibody, but the plastic on the back is nice to the touch and the back cover is interchangeable – there are several color options available for it (black, white, cyan, fuchsia, yellow), while the front is either white or black.
The lack of unibody design means you have access to the battery, which is another plus for the Lumia 710.
We'll be looking closer at the screen to see if it's a major downgrade. But the rest of the hardware of the Lumia 710 comes pretty close to its bigger bro – it has the same 1.4GHz processor and 512MB RAM, so speed-wise it should be identical. The storage is cut in half – only 8GB and it's not expandable – and the camera is a 5MP unit (still does 720p).
Anyway, inside the box we found the usual assortment of manuals, a charger, a separate microUSB cable and a one piece headset.
Here's the unboxing video of the Nokia Lumia 710:
Consider this unboxing the appetizer, the full review of the Lumia 710 is on the way.