Another box gets opened – and this time we find the HTC Trophy inside. At first look, the Trophy is much like the other Windows Phone 7 mobiles we've reviewed but a few things quickly caught our eye.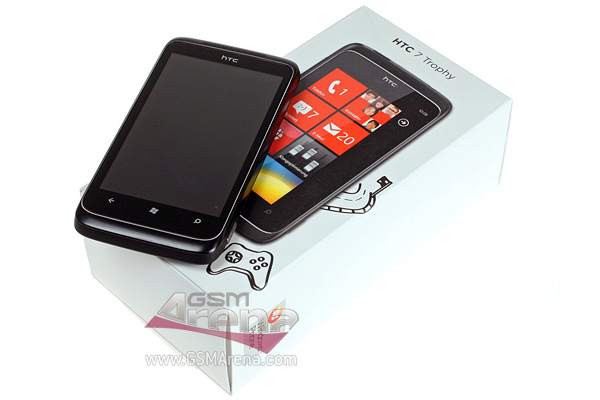 HTC Hub was the first – no, it's not a full Sense UI replica, it's just the clock, but then there's the Dolby Mobile and SRS WOW sound enhancements…
The box itself holds no surprise – the phone, some manuals, a charger and USB cable and a one-piece headset. And there's the phone itself too, of course.
It's made of a soft matte plastic, which is great to the touch but we fear that it may wear out quickly. The S-LCD screen looks great – it's a 3.8" unit with WVGA resolution. The build quality is great… but you'll have to wait till the review for more details on the hardware.
The preloaded software on the HTC Trophy is eye catching to say the least. HTC Hub looks a lot like the central homescreen of Sense UI but it isn't – it's just a clock and a list of featured HTC-made apps. The long intro animation that plays each time you start the app sure is attractive but it's way too long – you'll grow tired of it very quickly and there's no way to skip it.
Here's the unboxing video and a short tour of the user interface, enjoy.
There's some more eye candy (like the Notes app) and toy apps (like the Photo Enhancer) but the other important HTC application on the Trophy is the Sound Enhancer – it lets you toggle Dolby Mobile and SRS WOW enhancements for both songs and videos. It offers an equalizer too (something the native music player lacks).
Those are our initial impressions of the HTC Trophy – there'll be more when the full review is ready.