Smartphones just don't get any more extravagant than the Sprint-bound Kyocera Echo these days. We got to spend some quality time with the dual-screened Android smartphone at a New York event and we thought you might be interested to know what our first impressions are.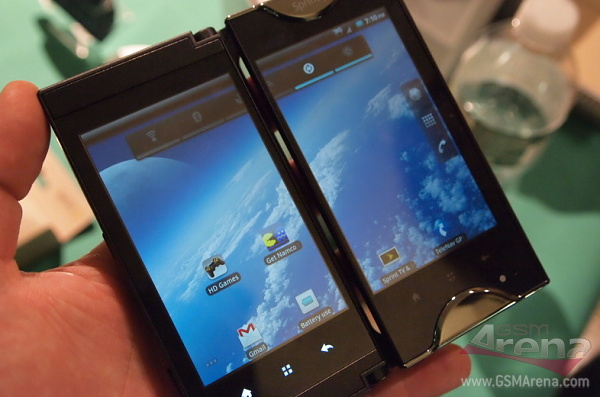 With the dual-screen concept so extravagant, we too were pretty curious if there's a niche for such devices. In theory the two 3.5" WVGA screens that form a common 4.7 UI pane with a resolution of 800 x 960 sounds pretty exciting. The second-gen Snapdragon inside also feels quite nice, though it doesn't sound as groundbreaking as the display. Naturally we feel a dual-core CPU would have suited the dual screen UI better, but things aren't looking too bad now either.
Kyocera has made it possible to launch some of the apps on the two screens simultaneously or you could just go with one app per screen. Then there's also the option to fold the Echo and use it as a regular one-screen device for those moments when you don't need any multitasking.
Anyway, we think the innovative design is certainly worthy of attention and it might just find its niche, albeit tight. The modest battery (1350mAh) is our main worry as it needs to power more screen estate than usual, but we could still think of some usage patterns where the Kyocera Echo will fit.
How about you? If there ever appears a GSM version of the Echo would you consider it?