We say welcome to the Huawei Ascend P1. While it gets ready to step in front of our camera, let's go over the basics. The Ascend P1 is an Ice Cream Sandwich droid, with a dual-core processor, a 4.3″ Super AMOLED screen and a 8MP camera.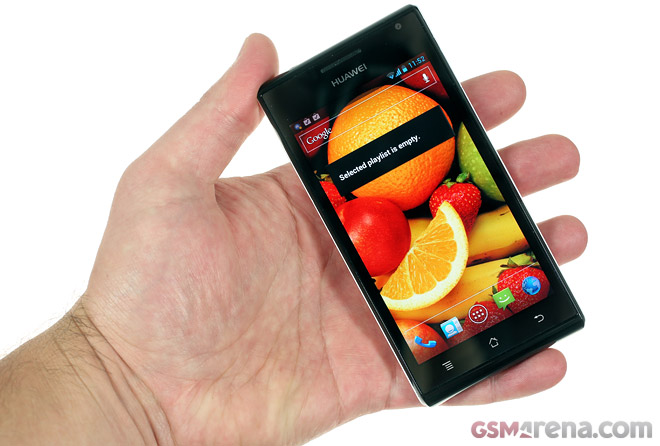 The Ascend P1 has an attractive, distinctive design and takes care to get most things right. The Gorilla Glass-covered screen offers qHD resolution (540 x 960), great colors, contrast and viewing angles and sharpness that's good enough for most people.
The microUSB port also doubles as an MHL port, so you can play HD content on any HDTV with an adapter or you can go the DLNA route. There's also Dolby Mobile 3.0+ technology enhancing the sound from the Ascend P1. You also get stuff like a full-sized SIM card slot and a microSD card slot, which are neglected in quite a few new smartphones.
The 8MP camera packs a dual-LED flash and some of the features that we saw on the HTC One series phones – HDR and Group mode. Group mode snaps several photos and for each face in the photo, you can choose which photo to use – we suspect Scalado is behind this.
The Huawei Ascend P1 is powered by a TI OMAP 4460 chipset, which features two Cortex-A9 cores clocked at 1.5GHz, 1GB of RAM and a PowerVR SGX540 GPU. The CPU is showing promise in benchmarks, but the SGX540 might be getting a little stale – we'll find out when we finish with the full review of the phone.
Check out this hands on video of the Ascend P1 to get a taste of how much (or rather how little) Huawei fiddled with the stock Android experience.
You can expect the full review soon, which will answer any remaining questions you might have about the Huawei Ascend P1.