The ultrabook market has seen a strong influx of Windows devices of late but every model just looks like a copy of the other. The 13″ display, i-something processor and thin frame are all there on every single non-Air ultrabook out there.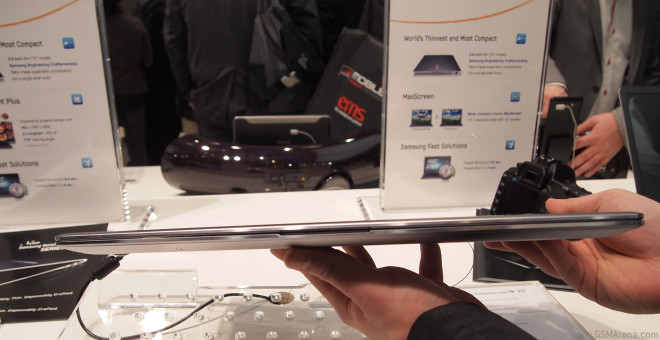 Samsung is aiming to change that with its Series 9 ultrabooks. A 15″ ultrabook, now that's innovation, and things don't stop there. We have the hands-on photos coming after the break.
The 13″ model has a 1600 x 900 HD+ display with SuperBright technology resulting in a 400 nit brightness (note: about twice as much as most laptops offer). It also offers a 170 degree viewing angle so that things look sharp even from the side.
It's also currently the thinnest 13″ laptop out there at 12.7 mm and weighs 1.16 kg.
The 15″ model is promoted as sporting a typical 14″ body, is 14.9 mm thick and weighs just 1.59 kg.
We especially liked how lightweight the Samsung ultrabooks are and the fact that the chicklet keyboard's function buttons are limited to what you'd really need and not overcrowded.
The displays are an absolute delight to work with and due to the extremely high brightness and resolution everything looks great on them.
We like the Series 9 ultrabooks by Samsung, they give the ultrabook category a push forward. It's interesting to see what Apple will think off with the next Air's, here's to good competition.