We were itching to test the Xperia active's water resistance ever since it first stepped in our office.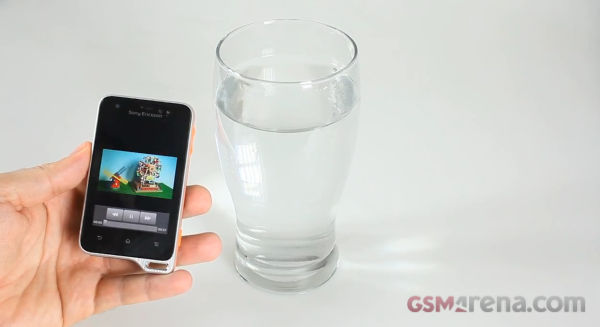 Naturally, the water test is the most fun to do and we wanted to check out the wet finger tracking Sony Ericsson is bragging about.
We shot the whole thing on video, so you can enjoy it too:
The Sony Ericsson Xperia active did a fantastic job of staying alive during the test. There was no water penetrating inside and it retained full functionality throughout. The wet finger tracking, as you can see in the video, works like a charm. The display had no problems recognizing finger commands even when very wet.
The only dent in the Xperia active's underwater armor are the three capacitive buttons below the display. Once those hit the water surface they recognized it as a command and would either go to the homescreen, go back to the previous screen or open up the menu screen. But this isn't so bad, considering that most smartphones would go haywire in such a scenario.
We didn't test the drop resistance of the Xperia active because we didn't want to scar that pretty face. But it does seem capable of withstanding a 1m drop. We've seen non-rugged phones survive that. We don't mean to take away from the Xperia active fame here. We are duly impressed by its underwater performance.