The new 1.1.0 version of VLC Media Player for iOS breaks the iPad-only chains and adds support for iPhone and iPod Touch.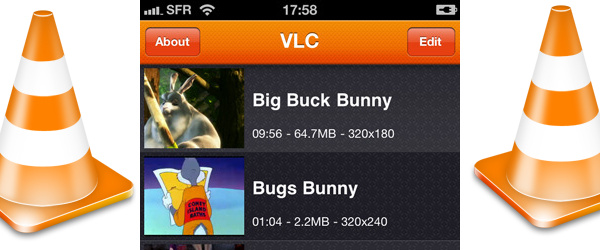 Now VLC Media Player is available for iPad, iPhone 3GS, iPhone 4 and the latest iPod Touches for free.
If you are an iPad user, you may be already familiar with the iOS VLC player and its unsatisfactory results. I decided to make some tests on my iPhone 4 and it turned out pretty good.
The VLC player for iPhone managed to play every file I threw at it with equal or less than WVGA resolution. I've tried all kind of videos with AVI, MP4 and MKV extensions and they played very well with almost no dropped frames (except on some particular DivX samples). Unfortunately, anything close to HD resolution is a no-go.
VLC Media Player isn't capable of displaying subtitles or HD video playback, but it supports all common codecs and best of all, it's free. CineXPlayer has subtitles, TV-out support and even HD playback, but still offers very limited XviD support and costs 3 US dollars on the iPhone/iPod Touch and 4 US dollars on the iPad.
You can get the VLC Media Player from the AppStore right now.