The popular VLC media player for Windows and OS X has received another update, which brings it to version 2.0.2. Among the chief changes in this version is support for the Retina display on the new MacBook Pro. This means that the application interface will be displayed at native resolution instead of being upscaled as before.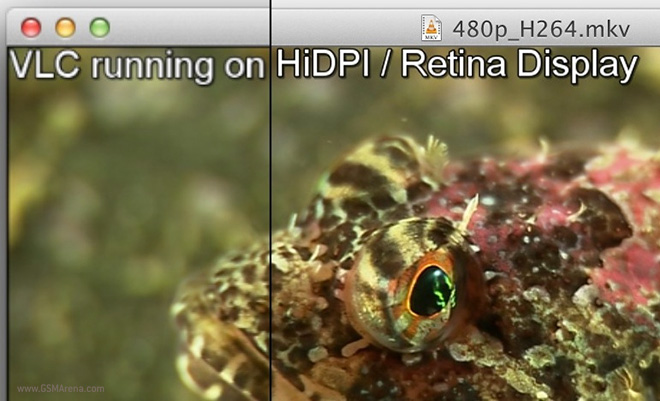 Another important change is that VLC will no longer ask users on OS X to wait while updating the font cache. As users of this player will know, you had to wait for a lengthy loading animation as the player built the font cache after every update, but that stops with 2.0.2. Of course it will still build the font cache, just that you won't have to stare at a dialogue box for ages.
Some of the other changes include:
Enabled drag and drop of playlist items between the temporary playlist and the persistent media library
Various video output improvements, notably for crop, zoom, osd and menu support
Enabled import of playlist items taken from the service discovery modules to the media library or the temporary playlist
Added media key support for keyboards by other manufacturers than Apple.
Added HiDPI / Retina Display save UI artwork
Restored the preferences' fullscreen options, which allows the user to start videos directly in fullscreen mode
Keep Aspect Ratio when resizing is back
Added controls to manipulate the Subtitles Duration to the Track Synchronization panel
Hidden items in the sidebar are being retained for the next launch now
Fixed crash when trying to open an Audio CD by drag & drop
Improve reliability when opening DVDs or BDs by drag & drop
Fixed a crash when attaching hard drives with multiple partitions while VLC is running
Improved OSD rendering in fullscreen mode
Improved fullscreen behavior when using a smartphone remote based upon VLC's http interface
The selected audio device is retained throughout multiple VLC sessions now
Since running the OS X interface as an Extra Interface or Control Interface can lead to undefined results, the respective options will be automatically reset on the first launch, if needed.
This fixes issues with unresponsive playback controls and crashes on quit.
Updated Growl plugin supporting Growl 1.3.
Improved reliablity in detecting VIDEO_TS folders when opened through the "Open Disc" panel.
Re-implemented the "Window Decorations" option, which, if disabled, hides all the UI elements from the video output window to give you the cleanest experience possible.
Improved the window title behavior when using the dark interface mode. It correctly responds to right and double-click events now.
Miscellaneous minor interface improvements
To get a full list of changes, click on the source link below. To download the VLC media player, click here.