Along with the three Android phones, ViewSonic also announced three new tablets, two droids and one Windows 7 slate. The Android tablets come in two sizes – 7″ and 9.7″, while the Atom-powered Windows 7 slate is a 10-incher.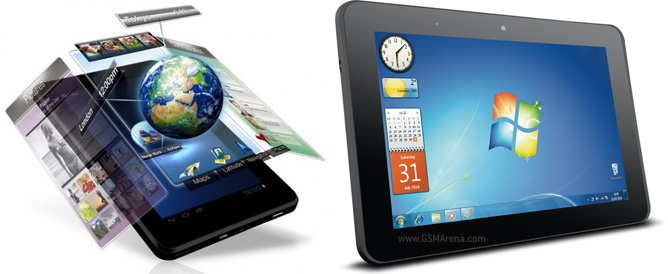 The ViewSonic ViewPad E100 has a 9.7″ IPS screen with 1024×768 resolution and runs Android 4.0 Ice Cream Sandwich. It's powered by a 1GHz processor and packs Wi-Fi and Bluetooth connectivity, HDMI and USB ports and a microSD slot. It will come in 3G+Wi-Fi and Wi-Fi only versions. The E100 is 9.1mm thick and weighs 620g.
The 7″ tablet, the ViewSonic ViewPad G70 has an IPS screen too with 1024×600 resolution. It has 3G and Wi-Fi connectivity, along with a miniHDMI port. There's 4GB of built-in storage and 1GB RAM (no idea on the CPU though). The G70 runs ICS too with a custom ViewSonic 3D interface.
Finally, the ViewPad P100 has a 10″ 1280×800 screen (IPS again) and is powered by an Intel Atom N2600 1.6GHz dual-core processor. It runs unmodified Windows 7.
Amazing, Viewsonic just won't stop churning out all kinds of low-quality, budget minded tech in every direction!
Source (in Chinese)