The SuperAMOLED screen on the Samsung I9000 Galaxy S is getting a lot of attention – and it's well deserved with its excellent image quality and sensitivity. But talking about it doesn't give you a clear idea.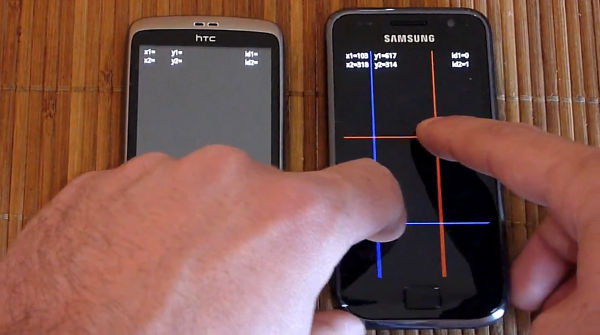 So, here's a video of the Galaxy S screen making the screen on the HTC Desire look bad at multi-touch…
Frandroid have run a test of the Samsung Galaxy S screen's touchability versus the HTC Desire, which is mostly identical to the Nexus One. The Desire screen seems rather easy to get confused in multi-touch – just follow the circles, which mark where the phone thinks the user's fingers are.
It looks like the screen on the Samsung I9000 Galaxy S is more sensitive (the circles don't snap together) and more responsive too. Frandroid claim 7 milliseconds response time, which is a couple of times faster than the competition.
Anyway, there's more to the Galaxy S than the gorgeous screen – check out our review for a look at the other features of Samsung's ultimate Android phone.
Source (Site in French)