The incredibly popular Viber app for iPhones is about to make its Android debut. The application that brought free calls and messaging to iPhone, iPod and iPad users around the globe is said to be coming to the Android market as soon as this week. Well, it was about time already.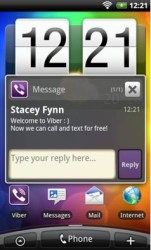 Needless to say that such a massive increase in the availability will greatly benefit the app user base – you will now be able to call a much larger part of your contact list for free.
The sad news is that the Android version of Viber in the beta stages of its development and only the 500 testers, who registered at the company website will be able to try it. You can still throw your name in there to be notified if there are any openings in the following weeks, but chances are pretty slim.
Anyway Viber for Android has reportedly been already tested on more than 20 devices and it doesn't seem to have any issues with any of them. That gives us hope that the official release might not be that far away despite the several delays so far.
To make it up to Android users for making them wait this long, the developers have added a few extra features in this version, including full call screen pop-ups, pop-up text message notifications and an option to reply to message without entering the app itself. The phone integration will also be extended, allowing users to see their regular call logs and messages inside Viber.