HTC Thunderbolt users on Verizon are being treated to a new software update, v1.70.605.0. Unfortunately, this won't update the phone to Gingerbread but brings with it some nice new features as well as fixes some issues with the current firmware.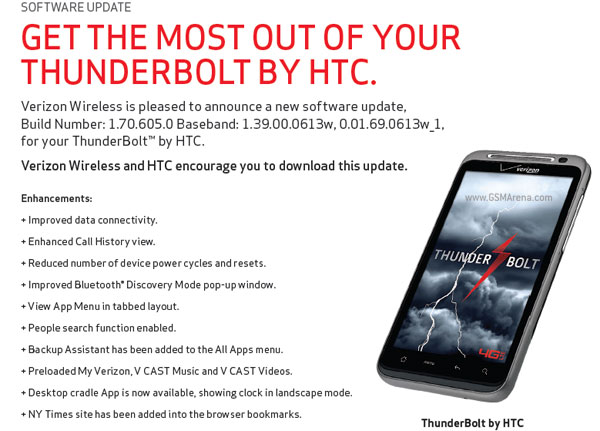 For starters it reduces the number of power cycles and resets on the phone. There is also an improvement in data connectivity. Apart from that you get enhanced call history view, tabbed layout in application menu, people search function, Backup Assistant, Desktop cradle app and the addition of NY Times as a bookmark in the browser.
However, there are a couple of caveats to installing this update. First of all it will disable the free mobile hotspot feature and secondly, it will install a trio of Verizon's bloatware: My Verizon, V CAST Music and V CAST Video. Unfortunately, this is something that you will have to live with if you choose to upgrade.