The mythical creature known as the Verizon Galaxy Nexus has been spotted in the wild and much to the surprise of its spotters was found running some Verizon apps. As you may know, the Nexus phones have been known to come with a stock ROM from Google with nothing but Google's own applications installed. The Galaxy Nexus will be the first to break this tradition and have some bloatware courtesy of Verizon, tarnishing the name of the Nexus brand forever.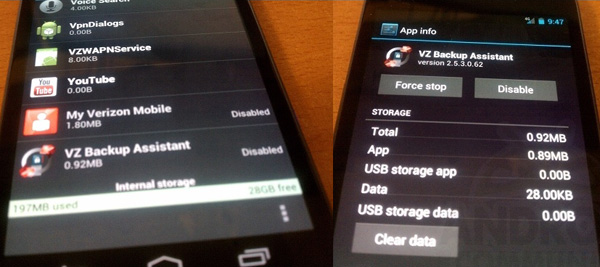 It's not all bad news, however. If you may recall, Ice Cream Sandwich comes with the ability to disable unwanted applications from the Settings menu. Mind you, you can only disable them and not delete them, which means they will still reside on your memory but won't be visible in the app launcher.
Thankfully, Verizon has not disabled this functionality, so you will still be able to disable their applications and pretend nothing ever happen. Still, it is disappointing to see Google submit to carrier demands and allow them to install bloatware on their Nexus devices. Whatever happened to the Pure Google Experience?