Frustrated with the malware problem on your Android device? The folks at Microsoft hear ya and so they are willing to offer you a free 'upgrade' to a Windows Phone device.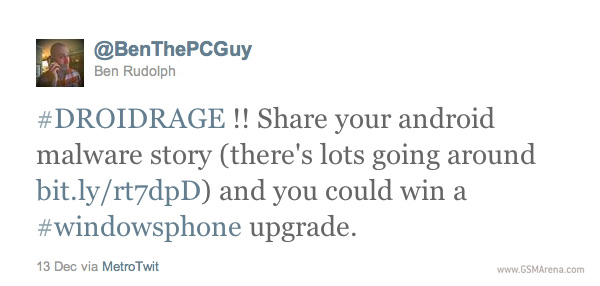 All you have to do is log on to Twitter and share your Android malware story with the hashtag #DROIDRAGE and you could be one of the five lucky winners to get a Windows Phone 7 device.
This 'offer' was first posted by Microsoft evangelist Ben Rudolph on his Twitter account and since then he has got quite a few replies. Of course, this is not the first time Microsoft is doing something like this. Back in October, they did something similar for BlackBerry owners.
It seems to me Microsoft is desperate to get Windows Phone devices in the hands of as many people as they can, probably in the hopes of getting them talking about it and entice others to spend their money on Windows Phone instead of other platforms. And these giveaways also prove that they are not afraid to play dirty.
Surprisingly, though, they have kept Apple and the iPhone out of this till now and have also been showering them with their apps recently. Wonder what's going on inside the minds at Redmond.