There's avast market for customization in the tech world and V-Moda's approach to their headphones has always had that in mind. The company is offering buyers the option to trick out their set with custom 3D printed shields, and different models could set you back as much as $40K, we're told.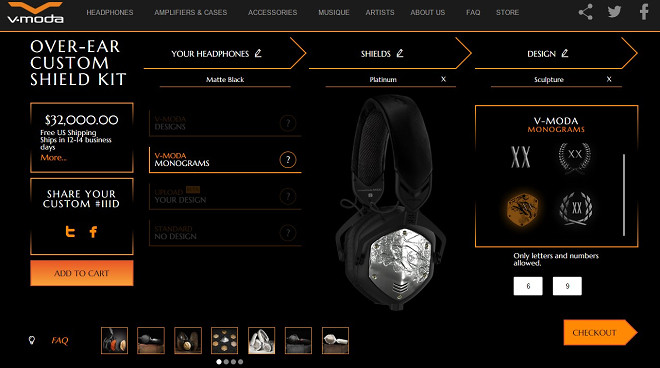 We struggled to hit maximum and only managed about $32,000 in the configurator, $270 worth of headphones included.
Some of the options come free of charge, like 3D printed fiber in a choice of 9 colors, or laser engraved aluminum, where you get more colors plus a questionable crocodile-skin pattern.
Plain cold steel adds $130 to the total price, and you're not without color choices either. Mid-range bling options include brass, bronze and sterling silver, as well as gold and rhodium plating for $600-$900, headphones included. Oh, and you can choose one of three colors for the screws.
If price is not a consideration you can opt for solid 14K gold in one of three colors or maybe platinum. You can then go ahead and add different designs and monograms, and if the suggested ones aren't good enough for you, you can always upload your own. Perhaps that's the way to achieve $40K, because hard as we tried, we topped at $32K.