Audiophiles rejoice. Google will be adding support for USB audio out in the next version of Android, currently known as the 'L' release. The feature briefly appeared on screen during the I/O keynote but Google has now closed the issue added on its support forum asking for USB audio that was added two years ago.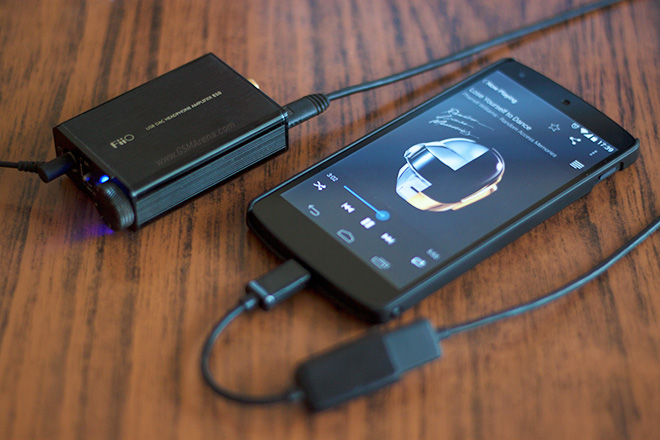 For those not aware, USB audio out allows you to connect devices such as headphone amplifiers to the USB port of the phone and get superior audio quality out of it. Most smartphones these days are capable of outputting clean audio through their headphone jack. However, in most cases, there is not enough power from the built-in amp to drive more power hungry headphones.
With the USB audio out, you can connect an external DAC/headphone amp to your phone, at which point the phone simply sends a pure digital audio signal to the connected device without any amplification or conversion done at its end. The DAC/headphone amp will then convert that digital signal into analog audio signal, amplify it and then send it to your headphones. In the image above, I have connected my Fiio E10 to the Nexus 5 but although the E10 LED lights up there is no actual audio being sent to it right now (on KitKat).
This feature is already available in several Android devices right now from OEMs but Nexus devices and those from other OEMs less concerned about audio quality did not have this feature. But now with it arriving in stock Android, every phone running the 'L' release will be able to output audio through its USB port.