Chrome Beta browser for Android has received its first update. The biggest improvement is added support for more regions. The updated list now also includes Austria, Belgium, Czech Republic, Denmark, Finland, Hong Kong, Hungary, Poland, India, Italy, Ireland, Luxembourg, Netherlands, Norway, New Zealand, Russia, Singapore, South Africa, Sweden and Switzerland. As before, however, the browser is only available on devices running Ice Cream Sandwich, and it's going to stay that way.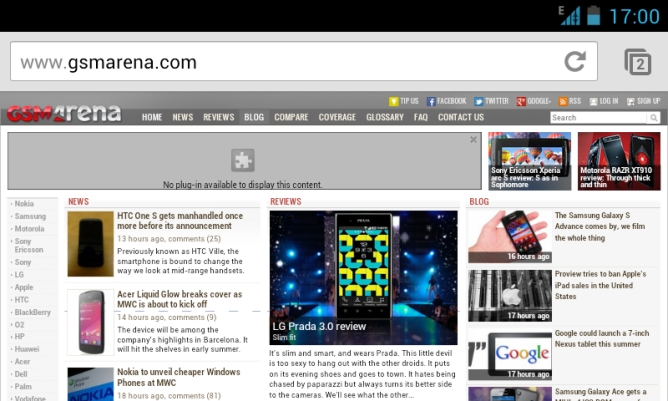 Other changes include the addition of Android Beam support, which means you can now beam URLs to other NFC-enabled Android devices by simply touching them. Lastly, there are some bug fixes and some performance updates.
The new update solves two of my major problems with the initial release. The page no longer blanks out while scrolling, which used to happen a lot before. Also, the boundaries around the sides to trigger the switch tab function are now better defined, which means you don't accidentally end up switching tabs when all you wanted to do was scroll horizontally on the current page.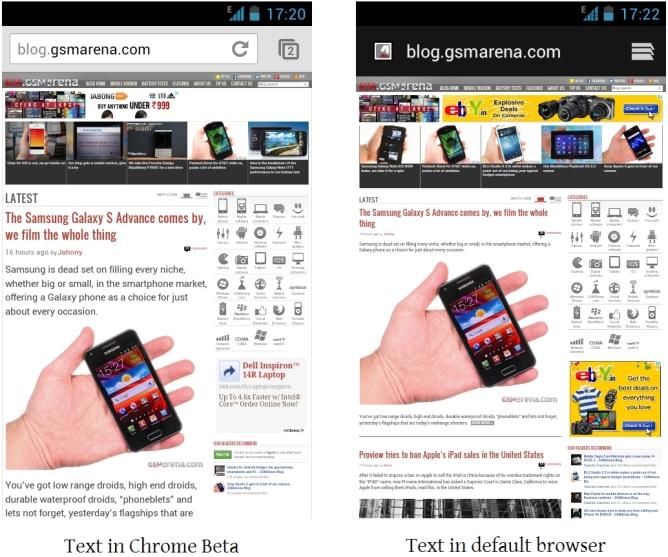 Some of the other problems continue to persist, however. The browser still loads mobile versions of the sites by default and there is no way to change the user agent. The text formatting is still set to fit the browser window (à la Internet Explorer mobile), which makes certain sites like our very own GSMArena Blog look goofy due to the enlarged font, not to mention the fact that it also messes with the page layout at times. The browser still has a hard time keeping more than a couple of pages in memory. In the stock ICS browser on my Nexus S, I can have several pages open at a time and I can switch easily between them. In Chrome Beta, switching becomes a chore when you have more than a couple of tabs because then the browser reloads the third tab every time you access it. This also happens when you switch between Chrome Beta and other applications.
Some of the glitches will be ironed out eventually in future versions but I hope Google gives an option to switch the user agent and the text formatting in the next version. Till then, I will be sticking with the stock ICS browser.