It seems Google is working on a new subscription service for YouTube, called YouTube Music Key. With this service, users will be able to listen to music videos on YouTube without any ads, in the background or even when they are offline, by paying the monthly subscription fee.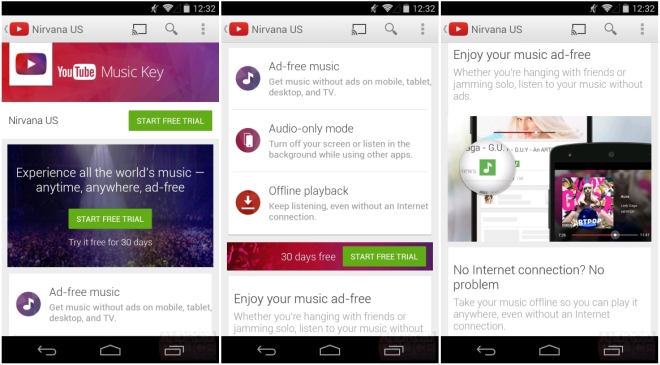 YouTube currently has one of the largest library of music videos on the internet but often you just have to listen to the music without watching the video and the YouTube player on mobile won't let you play audio in the background. There are also other things to worry about, such as ads and not being able to play without an internet connection, all of which YouTube Music Key will solve.
For a monthly fee of $9.99, with 30-day free trial, YouTube Music Key will unlock all the aforementioned features for you. And it's not just the current content; Google will also be adding 20 million additional high quality tracks, arranged by albums and artist discography, and you can listen to them in the background on your phone or download them for offline playback.
The $9.99 fee will also include access to Google Play Music All Access, which will be renamed to Google Play Music Key. For your basic audio needs, Google Play would also work fine normally but YouTube clearly has a much wider collection of songs, including stuff like concerts and remixes. You would probably be able to subscribe to just Google Play Music Key separately at a lower price.
Google should roll out this service, once it manages to sort out all the licensing issues.