Nokia N8 hasn't even received the official Anna update yet, but the most daring of its users are already rewarded with the next Symbian iteration – Belle. The files required for flashing Belle on your N8 are already available for download so if you are knowledgeable enough and decide that it's worth voiding your warranty you might get it up and running right now.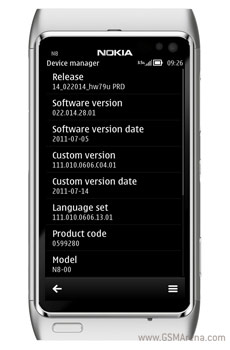 There's not much in the way of instructions on how to flash it in the forum thread that lists the download files, but you can find them over here. You would need to apply the Anna update first though, if you haven't done so already.
The Belle update itself brings along an updated notifications drawer, a new keyboard and camera UIs and a few other more minor tweaks. You can check it out in action in this video that leaked previously.
Unfortunately, there are quite a lot of apps incompatible with the Belle update and if you are using those you'd be losing them if you flash it. Check out the list here and if you still want to try the latest Symbian can offer follow the source link below.