The Asus 1215N netbook finally got a release date and some pricing details (though unofficially) – it's coming in late August. But how much cash would the 1215N be, considering it has a 1.8GHz dual-core Atom CPU and an NVIDIA ION 2 (along with Optimus) beating in its chest?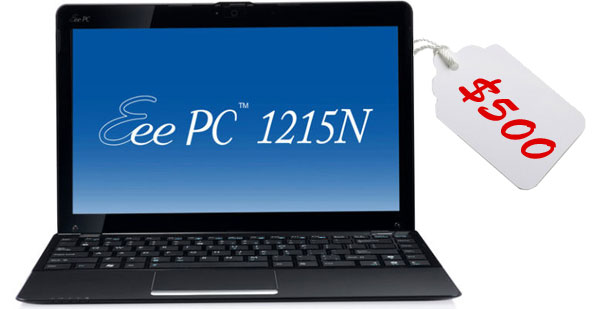 That's not quite clear yet, but it should be under 500 US dollars. We'll know for certain when it comes out on August 23.
The Asus 1215N like we saw last week has a fancy graphics setup featuring Optimus – technology that seamlessly switches between integrated and dedicated graphics on the go, delivering the best of both worlds (low power consumption or high performance).
That and it has a 12" screen with 1366×768 pixels resolution to draw on – NVIDIA ION 2 will easily decode HD footage, so the HD ready screen is a welcome perk. There's an HDMI port too.
The 1.8GHz Intel Atom D525 CPU is meant for nettops, so it beats netbook targeted processors, but it's also more power-hungry and you can tell battery life will be an issue since Asus didn't flaunt with any impressive number in their original press release. Still, it's about as much CPU power as you can get before you get charged sub notebook prices (and those are quite a bit above $500 unfortunately).
We're waiting for official word from Asus to confirm this info and be more specific with the pricing.