The Nokia N9 is rolling out the welcome mat for its half cousin that just arrived in our office – the Nokia Lumia 800. The two can almost be siblings, but that lasts only until you turn the screen on. The 800 is Nokia's first foray into the land of Windows Phone and we're excited to take it for a test drive.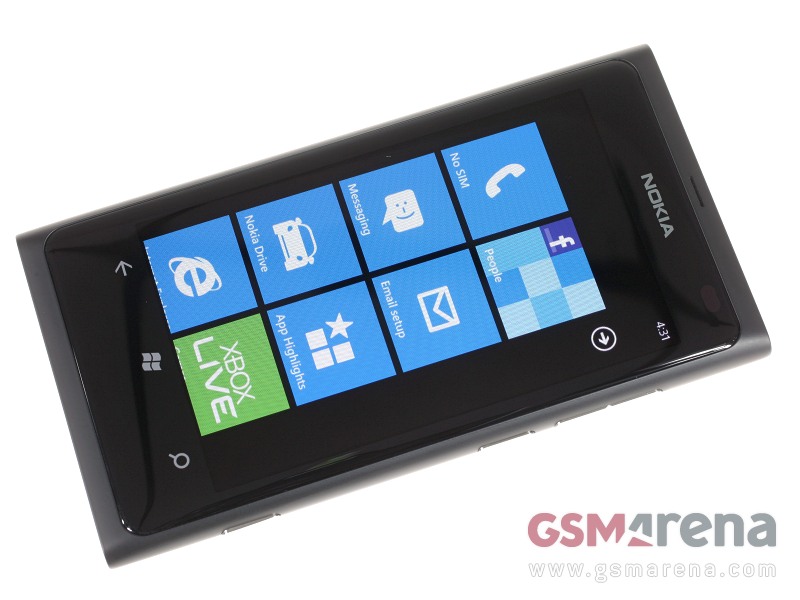 Let's open up the box and see if the differences start from the packaging or if it's just the phone housed inside the box that's different.
The retail package for the Nokia Lumia 800 includes a compact charger that ends with a USB port, a USB cable to go with it and a one-piece headset. One extra that the N9 didn't have is the rubber case (in matching color) that fits snugly on the phone. The case is very unobtrusive – you can barely tell it's there.
Now that we're done with the packaging, let's look at the device itself – it looks almost identical to the N9, but there are important differences that would elude only an untrained eye.





Nokia Lumia 800 • The accessories from the box • Lumia 800 flanked by Samsung Omnia W and Nokia N9
The ClearBlack AMOLED screen on the Nokia Lumia 800 is 3.7" big and with 480×800 pixels resolution (compared to 3.9″ and 480×854 for the N9). The bottom part of the screen along with the video call camera have given way to touch-sensitive Windows Phone keys – Back, Menu and Search. Other than that, the screen seems like the same impressive unit that the N9 had.
One place where the Lumia 800 one-ups the N9 is the hardware shutter key. It makes taking photos more comfortable and quicker too, as you can wake the phone from standby by just pressing and holding the shutter key.
The 800 uses the same polycarbonate shell, which has the advantage that the material itself is colored – even if it gets scratched, you won't see a different color peep through. The other material on the outside of the phone is the scratch-resistant Gorilla glass that guards the screen.
Here's the unboxing video that features the Lumia 800, its case and accessories, plus a very brief tour of the software.
That's barely scratching the surface on the Nokia Lumia 800 – the chipset that powers the phone is actually quite different from the one in the N9. The Lumia 800 packs a single Scorpion core running at 1.4GHz courtesy of a Qualcomm chipset. The change in chipset also brings about a change in RAM – it's 512MB now, the standard for Windows Phone handsets.
Nokia Drive is also on board the Lumia 800 – that's the free life-time voice-guided navigation – and it will be unique to WP-running Nokias, so that's something to explore for the upcoming review as well.