Okay, let's rewind this a bit. Remember the two Android tablets that Sony announced? They also showed two netbook-ish computers. The first was dubbed Ultra Mobile PC (UMPCs were the "Neanderthals" to netbooks).

The second is a "Freestyle Hybrid PC" and is a side-sliding tablet/netbook… The form factor is very rare but not unseen – there's the Asus Eee Pad Slider and the Samsung Sliding PC 7 Series that showed up in January.
Still, the Sony Freestyle Hybrid PC has VAIO branding, which suggests it's the sliding VAIO that made the rounds in the Internet rumor mill a while back. Supposedly, it's an 9.4" slider powered by Intel Pine Trail and runs Windows 7. Rumors went on to suggest an $800 price tag and a fall launch, October specifically.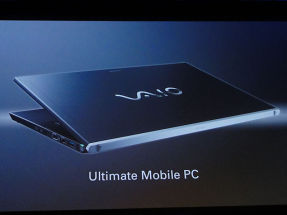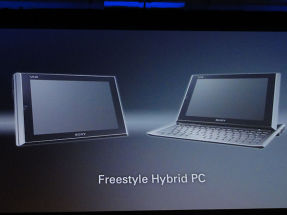 Sony Ultra Mobile PC • Sony Freestyle Hybrid PC
The other gadget, the Ultra Mobile PC, looks like a more traditional netbook but with an ultra-thin frame. There's not much more on it, but I can just make out an USB 3.0 port (marked by the blue line) and an HDMI port.