Two sisters from Panama won the second LG Mobile WorldCup becoming the fastest texters on the planet. More than 13 million people from 16 countries participated in the tournament, where LG gave away $130,000 worth of prizess.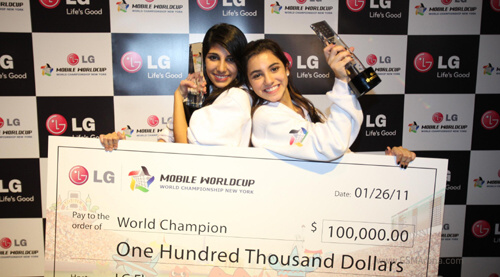 The second LG Mobile WorldCup finals were held in New York. Every country was represented by a team of two – the winners from previously held local tournaments.
The LG Chocolate BL20 (numpad controls) and the TOWN GT350 (QWERTY keyboard) were the official WorldCup phones. The participants had to type fast and correct every phrase they saw on the plasma screens around.


LG BL20 New Chocolate • LG Town GT350
The two sisters Cristina and Jennifer from Panama won the first place and the prize of $100,000. The second (Korea) the third (Brazil) teams got $20,000 and $10,000 respectively.
The Guinness World Record for the fastest texting on a hardware QWERTY keyboard was broken by the Australian Cheong Kit Au, who managed to type out correctly a 264-character text in a minute and 17 seconds!
The sixteen countries participated in the WorldCup are Argentina, Australia, Brazil, Chile, El Salvador, Guatemala, Honduras, Indonesia, Korea, Morocco, Nicaragua, Panama, Portugal, South Africa, Thailand and the U.S. We expect LG to expand the tournament in more countries this year.