Twitter has released updated versions of their mobile apps, with the Android version getting the bulk of the changes. Among the list of improvements common to both iOS and Android versions is a new Discover view, which shows a single stream of tweets, trends, activity and accounts to follow.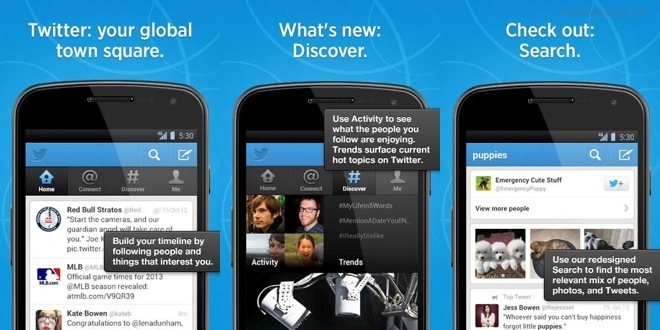 The search has also been update and now presents you with accounts, tweets and pictures relevant to your query. The Connect tab has been updated to show only Interactions view now but you can switch it to show only mentions from the Settings menu.
Other minor changes include ability to click on URLs from the timeline instead of having to open the tweet first and then accessing the URL. There is also general performance improvement across the board.
On Android, the app now uses the Holo UI guidelines for certain things, such as menu items, pop-ups, Settings menu and progress bar (it only took them a year to do this). Also, the Android version now supports paragraph breaks within tweets. Unfortunately, the overall app still resembles the iOS app and does not use Holo for the entire UI.
Other complaints include no support for streaming (still) and the Windows Phone client, which can now be classified under 'abandonware'.