The TransferJet technology was introduced by Sony two years ago, but it's finally picking up speed. It's a wire-free data transfer technology, kind of like Bluetooth but going at the speed of 802.11n Wi-Fi – 530Mbps. However it only works over a distance of 3cm range.



The idea behind TransferJet is to enable quick, wire-free synchronization of objects – say, you put your camera on your laptop and after a few seconds the photo's have been transferred. I say "wire-free" instead of wireless, because wireless sounds like you pick up the device and go – and you can't do that with the imposed limit of 3cm.
Three centimeters sounds too limited but it isn't really – it's not meant to connect the phone in your pocket to the wireless headset, but to transfer data between two devices without much more effort than putting them side by side.
Here's a demo video, which shows the basic idea:
The TransferJet Consortium boasts some big name players – Canon, Nikon, Olympus, Kodak, Casio, Panasonic, Samsung and others. They are quite famous in the camera making business and TransferJet goes at about the maximum speed of USB 2.0 (actually, a bit faster) – this just might be the way of the future when it comes to downloading photos of your camera.
Sony seems to be the biggest manufacturer of TransferJet-enabled devices for now, but they covered only the basics. First up is an 8GB Memory Stick with TransferJet that works in a similar way to EyeFi SD cards – you put it in your camera and the card will handle the data transfer automatically. Apparently, this card can't reach the maximum speed – it's limited to 160Mbps (that's still 20MB/s). The cost of the card is 100 US dollars and it's a Memory Stick, not exactly a very common format outside of Sony product lineup. It should be out by February 8th.
The TransferJet card is meant to be used in certain Sony digicams (such as the Cyber-shot HX5V/B ), which come TransferJet prepared. Using it in one of those will allow you to connect to the limited number of other TransferJet devices.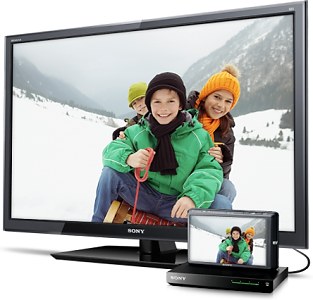 The first other Sony product from the TransferJet family is the 16.4" Sony Vaio F11MFX/B. You can also buy a TransferJet Base, which can connect to your computer over USB (or even to a Sony Bravia HDTV). The TransferJet Base will set you back 150 US dollars and will allow you to copy or view the files on your TransferJet-enabled camera.
So, what do you think – will this go the way of the Betamax or is it the way of the future?