Amidst all the commotion and announcements of mobile tech we often forget to mention some of the other tech innovation that debuts at the MWC. One item in particular grabbed our attention, mostly for its odd and interesting appearance.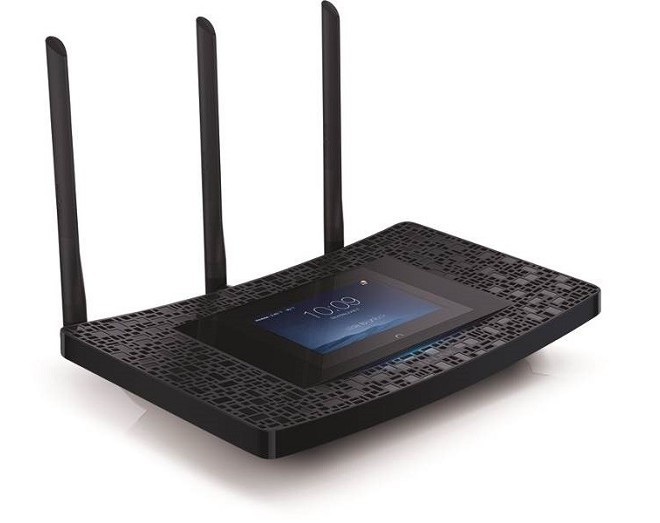 TP-Link's brand new Touch 5 router is the perfect combination of geeky awesomeness and useless over-accessorizing. It is a powerful, high-bandwidth wireless router, complete with its very own, built-in touchscreen. As you might have guessed, this screen is dedicated to settings and accessing various features, which sound convenient enough, but honestly, how often do you need to change your router setting to actually justify a separate screen control.
The display module does look incredibly cool though and is sure to be the center of attention at any home or small office. It is a color 4.3-inch touchscreen panel, which comes with its own dedicated control chip, separate from the rest of the unit's internals. This prevents unnecessary interfering and useless straining of the device processing capabilities, but also means that mostly the same effect can be achieved by strapping a Raspberry Pi with a screen, for example, to any conventional router and firing up the traditional web manager, which will also probably cost less, even if it won't look nearly as cool.
Speaking of the web-based interface, the Touch P5 still has one. As a matter of fact, despite the obvious addition of a touch panel control, the device is a pretty standard Wi-Fi router and might we add a pretty good one, based on the specs sheet. At the core of the 802.11 a/b/g/n/ac device there is a 1GHz Broadcom chip, which is quite a formidable amount of power to have in a device which essentially pushes packages around. This enables features, such as, Simultaneous Dual Band with a maximum speeds of up to 600Mbps over 2.4GHz and 1300Mbps over 5GHz, as well as built-in media server and print server.
The device is a definite eye-catcher, but fails to actually deliver in terms of usability and practicality once you get down to it.
What is your take on the quirky TP-LINK? Would you benefit from a touch-screen controlled router and is there some specific hidden gem of a use case that we are missing?