Helping to seal the fate of desktop computers Toshiba announced two new laptops that feature Intel's entire Core i range – from the "lowly" Intel Core i3 through the i5 to the i7. Meet the Toshiba Tecra A11 and the Toshiba Qosmio X500.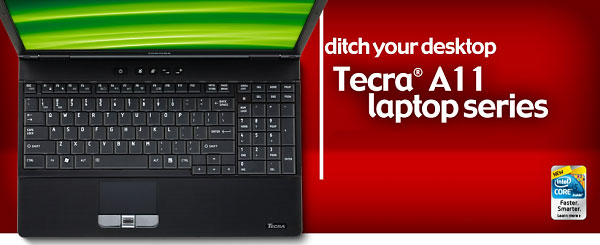 The Toshiba Tecra A11 (not Tegra) has a 15.6" screen, which leaves enough room for a 10-key NumPad on the keyboard. The Tecra A11 has four options for the CPU, all of them dual-cores:
Core i3-330M (2.13GHz, 3MB L3 cache)
Core i5-430M (2.26GHz, 2.53GHz Turbo Boost, 3MB L3 cache)
Core i5-520M (2.40GHz, 2.93GHz Turbo Boost, 3MB L3 cache)
Core i7-620M (2.66GHz, 3.33GHz Turbo Boost, 4MB L3 cache)
The last two come with a NVIDIA NVS 2100M video. The prices are respectively 879, 999, 1 999 and 1 349 US dollars. Here are the more detailed specs.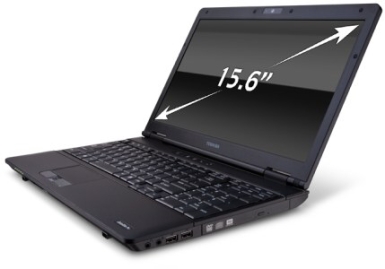 Toshiba Tecra A11
Should 15.6" inches prove too little for you the Toshiba Qosmio X500 has a monstrous 18.4" screen with FullHD resolution. At the heart of this laptop that challenges the notion that laptops are portable, lies either a Core i5-430M or a Core i7-720QM. The Intel Core i7-720QM is a quad-core CPU that runs at 1.6GHz with max Turbo Boost frequency of 2.8GHz. It also packs 6MB of L3 cache.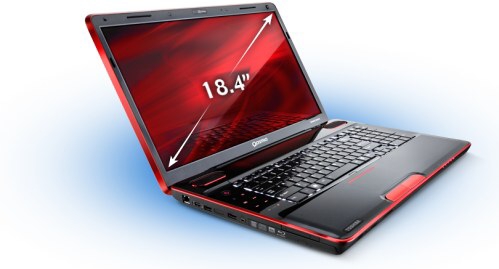 Toshiba Qosmio X500
For the video, you can choose between NVIDIA GeForce GTS 250M and GTS 360M. The price ranges from 1 199 to 1 899 US dollars. The more money gets you goodies like a 64GB SSD, a Blu-ray drive and up to 6GB of RAM. More details can be found here.
These specs will make a lot of desktop computers sweat – and with a screen size of 18.4" the Toshiba Qosmio X500 can replace your current desktop PC, monitor and all. And because you don't have to deal with a lot of cables, it's marginally more portable too.