Toshiba's latest EXCERIA SD cards are not just growing in extra capacity. Toshiba just introduced its new lineup of SD cards and is promising to deliver some blazing fast performance. The new EXCERIA cards come in three different flavors – Type 1, Type 2 and Type HD.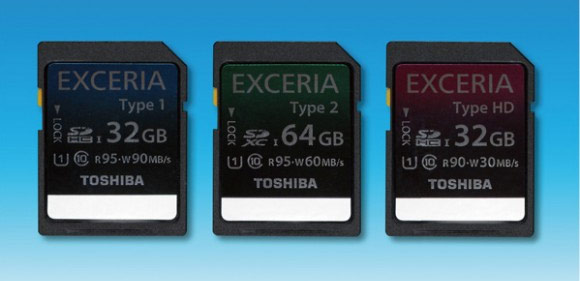 The Toshiba EXCERIA Type 1 SD cards will offer a capacity of 8GB, 16GB or 32GB, read speeds of up to 95MB/s and write speeds of up to 90MB/s. On paper, that makes them the fastest SD cards we have seen so far, but you'd need an UHS-I supporting host to get them to fulfill their potential.
If you can live with a tad slower write speeds (60MB/s) and want something roomier you may also consider the Type 2 EXCERIA cards, which will have a 64GB version. Finally, the Type HD cards will be offered in 8GB, 16GB and 32GB flavors and will offer maximum write speeds of "only" 30MB/s. Read speed is also lowered a bit to 90MB/s, but it doesn't look like something you cannot live with.
The Type HD cards will go on sale in April, with the Type 1 following in June and the Type 2 EXCERIA SDs taking until August to hit the shelves. Pricing is still unknown, but we are certain they won't come cheap.